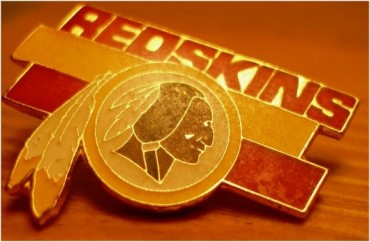 The fate of a Pennsylvania school's nickname of "Redskins" may be decided this week as a longtime foe of the moniker gets her moment before the state Human Relations Commission.
Fifty-nine year-old Donna Fann-Boyle has "always been offended" by the mascot of her alma mater, Neshaminy High School, and calls it "racist." Her feelings were "tough to manage" when her oldest son attended the school, and Boyle decided she finally had "had enough" when her youngest started there in 2012.
According to Philly.com, Boyle filed an official complaint in 2013, and two years later the Pennsylvania Human Relations Commission "found probable cause that the nickname violated the Pennsylvania Human Relations Act." However, Boyle ended up dropping the matter at the time due to "the increasing vitriol" directed at her and her family.
The PHRC then began its own case against Neshaminy.
Boyle calls Neshaminy's opposition to changing the nickname "ridiculous" and says the district "can't just be indoctrinating kids in this stuff and ignoring the voice of a minority."
Boyle may have an ally in PHRC Executive Director Chad Lassiter.
Lassiter said the nickname "has repercussions to a cohort already experiencing other forms of discrimination," and that "it  didn't matter if there were no American Indian students at the school." He added Boyle's case is a "teachable moment on colonialism."
The hearings by the PHRC are slated for Jan. 7-11 – Monday through Friday of next week […] The state commission said the hearings could continue on Jan. 14 and 15 if necessary. If the commission finds there is discrimination, it has a broad range of remedies it can impose, including ordering the district to change its nickname and requiring training for school board members, teachers, and staff[.] The district could appeal to Commonwealth Court. …

Commission members are expected to hear not only local American Indians and their allies who consider Neshaminy's longtime nickname to be racist but also community residents who've defended the term Redskins as a shared local tradition that they insist doesn't insult indigenous people but honors their bravery. …

The Neshaminy School District issued a statement last month that the "district denies the allegations in PHRC's lawsuit and, through its counsel, is defending the case, as it did in the 2013 case. The district contends that PHRC's allegations are unfounded. …"

Neshaminy School Board member Stephen Pirritano of Feasterville, a vocal advocate for keeping the nickname, said he plans to testify that the civil rights agency is overstepping its bounds. He said Redskins has wide community support and noted that Fann-Boyle's son had graduated and there is no longer a local complainant.

"The community feels like they're being singled out for political purposes, so people from a bureaucratic agency can put their stamp on something," Pirritano said. He argued that American Indian "culture has been honored and protected since the inception of the school district."
Pirritano has a point; polls of average Native Americans (i.e. non-activists) indicate they do not consider "Redskins" offensive.
MORE: School tells students, staff Washington Redskins gear is off limits
MORE: Activist law prof petitions FCC to deem 'Redskins' obscene, unlawful
IMAGE: Stephen Train / Flickr.com
Like The College Fix on Facebook / Follow us on Twitter