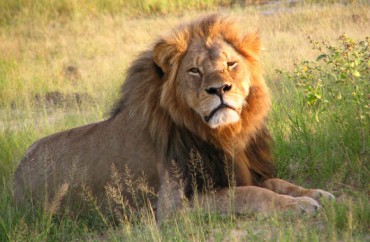 A Wake Forest University doctoral student from Zimbabwe has just given you permission to tell all your friends to shut the f— up about Cecil the lion.
Writing in The New York Times, molecular biosciences student Goodwell Nzou scolds Americans for "caring more about African animals than about African people" and being utterly ignorant of how nature works in Africa:
Did all those Americans signing petitions understand that lions actually kill people? That all the talk about Cecil being "beloved" or a "local favorite" was media hype? Did Jimmy Kimmel choke up because Cecil was murdered or because he confused him with Simba from "The Lion King"?

In my village in Zimbabwe, surrounded by wildlife conservation areas, no lion has ever been beloved, or granted an affectionate nickname. They are objects of terror.
Prowling lions ruined Nzou's village the way that gang violence ruins life in rough Chicago neighborhoods, as Nzou tells it: you couldn't walk outside without a machete, preferably guarded by your family. You couldn't play with your friends outside.
An adolescent boy in a village near his was recently mauled by a lion while guarding the family's fields from trampling by other big animals, Nzou says.
You cheer in the streets when someone kills a lion, whether it was done by "a local person or a white trophy hunter, whether it was poached or killed legally."  You don't "jump onto a hashtag train" for one lion when 800 have been legally killed in a decade.
And take the f—ing log out of your own eye, America:
Don't tell us what to do with our animals when you allowed your own mountain lions to be hunted to near extinction in the eastern United States. Don't bemoan the clear-cutting of our forests when you turned yours into concrete jungles.
Like The College Fix on Facebook / Follow us on Twitter
IMAGE: Daughter#3/Flickr
Like The College Fix on Facebook / Follow us on Twitter