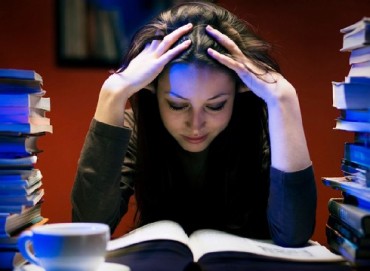 Emory University junior Sunidhi Ramesh, who is double majoring in neuroscience and sociology, explains in a recent Atlanta Journal Constitution op-ed why she cried after she earned her first B-plus, coming in a "decimal point away from an A-minus."
"I stared at my grade-stamped computer screen for what felt like hours, eyes darting back and forth, trying to play back how this could have happened. 'I didn't do THAT badly,' I thought. This had to be a mistake," writes Ramesh. "Fighting back tears (yes, tears), I shifted into warrior mode. In minutes, I had typed out a page-long argument as to why my grade had to be bumped up .3 points and why I more than deserved it. Satisfied, I pressed send."
Her professor, to his credit, denied the request, and Ramesh acknowledges "the tears came for what felt like forever." She goes on to explain that, in today's world, "the 'A' is not the goal but the standard."
The rest of the column is a diatribe against teaching to the test and the emphasis placed on test scores and grades over this nebulous concept of "learning" …
Imagine your new generation of doctors 10, 15, maybe 20 years from now. They scored the top grade of 5 on their AP Biology exams by mindlessly memorizing hours' worth of body cycles and systems. They aced their organic chemistry classes by drawing and redrawing hydroboration oxidation mechanisms until they could recall the 1-2 alkyl shift by memory. They scored in the highest percentiles on the MCAT by taking every practice test they could find in order to think in a way test-writers wanted them to think. They trudged through medical school by staring at their anatomy textbooks until their eyes wanted to close and stay shut.

Your new doctors will not be doctors or scholars or creative minds. They will be workers — workers who are confined within a curse of repetition. Workers who spent 20 years becoming flawless test-takers and learning to scheme a system that asked too much of them — a system that valued their performance within the institution over their own personal aspirations, talents, and abilities. A system that cooped them up in the library instead of asking them to volunteer and work on becoming more caring, selfless, and approachable individuals. A system that cut out hundreds of capable, passionate, and promising future doctors because they were unable to perform on exams as they were expected to.

Your lawyers will be workers, too. And your nurses. Your pharmacists. Your politicians. Your computer engineers. And that is how it will be. Because education in the United States has evolved into a volatile battleground where students are encouraged and awarded for learning how to appease the system. For understanding that it doesn't matter if you delete the folder in your brain titled "AP Physics" the minute you walk out of the exam. For coming to the conclusion that grades are more valuable than learning. And that learning means nothing at all.
While Ramesh's argument that students should not be treated like mindless robots is sound, the bottom line is tests have been used to measure learning for centuries, and blaming competition for your B-plus is not the answer.
Perhaps the real problem here, and one not posed by Ramesh, is that grade inflation among high school and college educators has become such a problem that this entitled generation expects As and cannot cope when it doesn't get them. Moreover, grade inflation has messed with admissions officers' abilities to correctly ascertain the capabilities of applicants.
MORE: Harvard University Appears Guilty of Grade Inflation
MORE: Grade Inflation — Worse Than You Think
MORE: Grade inflation — More 'A's than ever
MORE: Study says freshmen are overconfident
MORE: One in 12 Columbia undergrads earned 4.0
The headline states it clearly: "Emory student: 'A' is not the goal now but the standard." But who is really to blame here?
Like The College Fix on Facebook / Follow us on Twitter
IMAGE: Flickr