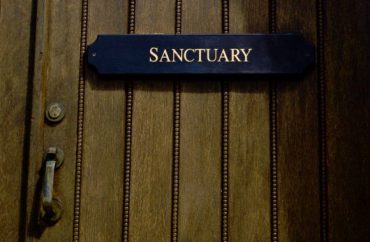 Give them 'excused absences' for protesting, too
Northeastern University student activists marched to President Joseph Aoun's office Dec. 8 to demand he designate the school a "sanctuary campus," including for dining hall workers.
Four days later, when Aoun hadn't acceded to the demand, activists staggered their marches to his office to make their point.
Now with the semester over and no action from the top, they are giving him until next year to cooperate. If Aoun doesn't, they will ramp up the pressure.
They don't know how yet – and the university claims they are asking the wrong person.
Four-year hiberation
The university's Huskies Organizing with Labor (HOWL), an umbrella group of more than 40 student groups at NU, first came on the scene in 2012 as a sort of Justice League for dining hall workers.
"We are a coalition of student groups that are coming together to support Chartwells workers in their struggle for dignity and respect," according to HOWL's Facebook page, referring to the private food services vendor that runs NU's dining halls and its workers' attempt to unionize.
It has only sprung into action twice since its founding, most recently in response to the election of Donald Trump and his pledge to deport illegal immigrants.
The activists' Dec. 8 demonstration called for the university to promise to protect undocumented students and workers from federal immigration authorities and deportations.
They changed tactics on Dec. 12, when HOWL members delivered 13 letters to Aoun's office in the span of a half-hour asking him to sign a sanctuary-campus pledge written by the workers' union, which represents hospitality workers in Massachusetts.
Assistant Dean of Students Jason Campbell-Foster reached out to HOWL, offering to meet with students, but group members said they would only meet with Aoun directly, according to The Huntington News, the student newspaper.
"HOWL is supporting the dining hall workers' union, UNITE HERE Local 26, in bringing this pledge to Northeastern," HOWL member Ben Simonds-Malamud told The College Fix from HOWL's email account.
"Our goal is to get sanctuary protections for all workers on our campus, so there is a guarantee that our administration will stand with workers against anti-immigrant policies. This call came directly from workers, and we hope to amplify their request to make it more likely for the administration to take action."
MORE: Designating Harvard a 'sanctuary' would endanger illegals, president says
In addition to the sanctuary-campus request, HOWL asked Aoun to denounce President-elect Trump's proposed policies and to protect the rights of dining hall employees to bargain collectively.
It asked him to support the expansion of President Barack Obama's Deferred Action for Childhood Arrivals (DACA) and Deferred Action for Parents of Americans and Lawful Permanent Residents executive orders.
It also apparently asked Aoun to grant excused absences to employees who strike for the demands of the pledge. HOWL did not respond to a request to clarify what authority the president has to tell a contractor how to deal with employee absences.
Aoun has not specifically weighed in on the election results, but he released a statement a week later that alluded to Trump's campaign promises:
I know that the events of recent days–and indeed, the tumult of recent months, both nationally and globally–have left many of us feeling vulnerable. Please know that Northeastern will always be a haven for inclusion and free expression. We will always defend human dignity. We will never countenance bigotry or intolerance in any form. On this, we will never compromise.
HOWL has given Aoun until Jan. 13 – four days after the semester begins – to sign the pledge, which also demands that the university "publicly denounce racism, sexism, and xenophobia," without elaborating.
He must comply before Trump's inauguration because workers "are fearful of actions the president-elect has promised to take," Simonds-Malamud told The Fix. Aoun "has the power, on our campus to address those fears and try to alleviate them" in keeping with Northeastern's promise of "being a welcoming, global campus."
MORE: Syracuse 'cannot ignore federal laws,' says chancellor
He would only say HOWL "will do whatever we can to get this pledge signed before the inauguration" and that it has "some high-visibility outreach and actions in store for the beginning of next semester."
The Office of Global Services says the university hosts more than 10,500 international students, while a diversity page says about 3,200 undergraduates are internationals. It's not clear how many students are immigrants, whether documented or not.
Though the petition claims to represent "Northeastern students, faculty, staff, and alumni," and asks signatories to identify their relationship to the school, as of Thursday night no self-identified faculty or staff had signed it.
'Not employed by Northeastern'
HOWL member Pratik Dubey told The Huntington News that he does not know how but the group will "escalate" its campaign if the pledge is left unsigned.
"Trump has promised to, in his first 100 days in office, deport 11 million people," Dubey said. The university has many immigrant workers, and "I don't think that Northeastern should provide that information" on immigration status to immigration authorities.
"[Q]uite frankly, the workers here are an integral part of the community and it would just be unfair to have them working at a place they don't feel safe," he said.
MORE: DePaul can easily identify illegal students, contrary to its claim
The administration claims that it can't play a role in meeting the workers' demands because they work for Chartwells.
A spokesman told The Fix there was "an important distinction" to be made, that the workers "are not employed by Northeastern."
He said the petition from Local 26 "requested a signature from the employer, which in this instance is Chartwells."
Local 26 spokesperson Tiffany Ten Eyck disagrees, telling The Huntington News: "On issues of such importance to our university community, we believe that President Aoun and the leadership of Northeastern University have the power, and obligation, to make this a reality."
Aoun has publicly shown support of undocumented students and the expansion of DACA, joining 400 other university presidents in a Nov. 21 statement responding to Trump's campaign pledges.
MORE: Faculty leader says it violates academic freedom to deport illegals
Like The College Fix on Facebook / Follow us on Twitter
IMAGES: Justin Henry/Flickr, Huskies Organizing With Labor