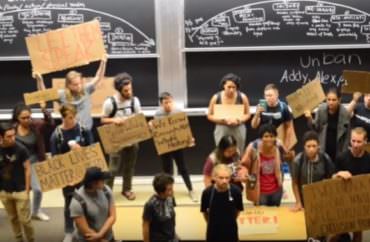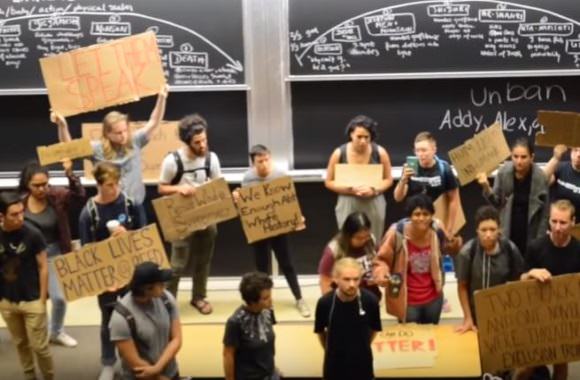 'Doesn't mean they are going to get everything they want'
After a year and a half of disruptions against a mandatory humanities course they say is too white, student protesters at Reed College got what they wanted.
And they're not happy about it.
Reedies Against Racism argues that Humanities 110, "Introduction to Humanities: Greece and the Ancient Mediterranean," has become even less diverse with the addition of texts from the Americas.
In an April 11 Facebook post, RAR said the remaining European texts in the course should be ditched in its first year and replaced with non-European texts "as reparations for Humanities 110's history of erasing the histories of people of color, especially black people."
The revisions to Humanities 110, known casually as Hum 110, came after RAR staged multiple sit-ins and and attempted takeovers of class sessions throughout the 2016-2017 academic year and the first two months of this school year.
Though students who have taken the class have told The College Fix and other publications that they objected to RAR's methods of protest, which sometimes led professors to cancel classes, a Reed College spokesperson refused to tell The Fix whether any complaints have been lodged against the group by students or faculty.
Kevin Myers, director of media relations, said that would violate the Family Educational Rights and Privacy Act, a federal law that does not appear to be applicable to the requested information.
"RAR are well within their rights to advocate for what they want, but it doesn't mean they are going to get everything they want," Myers said in a phone interview.
He largely portrayed the protesters as using appropriate methods of dissent, playing down the disruptions that have drawn widespread media attention in the past year.
MORE: Greco-Roman class may be changed after students complain it's too white
It's racist to learn about European cultures first
The revised Hum 110 will divide into four modules. New freshmen will learn about Athens and Rome in the first semester of the 2018-2019 school year. The second semester will feature Mexico City and Harlem, a change adopted by faculty in response to RAR demands.
By cutting "the African and Middle Eastern texts that past Reed activists fought for" and putting their replacements in the Americas in the second semester, "Reed freshmen will still receive the message that learning about white culture is more urgent and foundational to a college education," RAR wrote in its April 11 post.
They asked students to support their idea that Athens and Rome be replaced by Jerusalem and Cairo, since they "have been covered in Hum 110 for several years now" and provide "some limited content on people of color that is just as important as Plato or Aristotle."
Though the group asked supporters to sign a petition demanding the exclusion of European cities from the first year of the revised course, the Google document says it "can only be viewed by users in the owner's organization."
MORE: FERPA is 'distorted excuse for institutional stonewalling'
RAR did not respond to Facebook messages on April 19 and 23 asking for an interview.
The group has steadily ramped up its protest tactics. It started with silent sit-ins in Hum 110 to protest the perceived absence of minority voices in the curriculum, and then graduated to interrupting lectures, engaging in screaming matches with students and boycotting classes.
In an unrelated campaign to force Reed to divest from Wells Fargo, RAR occupied the college finance office – requiring sensitive financial documents to be moved – and allegedly harassed a staff member. That crossed the line for the administration, which enforced no-contact orders against protesters.
Lucia Martinez Valdivia (below), a humanities professor who identifies as queer and claims there are "Nazis" in the White House, described feeling intimidated by protesters who crashed her Hum 110 class.
She wrote in The Washington Post in October that protesters held up "obscene" signs and painted faculty of color – including her – as anti-black and white supremacist.
"Some colleagues, including people of color, immigrants and those without tenure, found it impossible to work under these conditions," she wrote: "The signs intimidated faculty into silence, just as intended."
MORE: Students protest having to study 'predominantly white authors'
Reed's dissent policy encourages students to express their opinion in ways that don't interrupt the course or operation of the college, according to spokesperson Myers.
He told The Fix that students protested by holding signs and sitting in the "well," the classroom space where professors stand to teach.
"Faculty voted unanimously to allow the 24 individual lecturers who teach the class to decide if students can do silent protests," Myers said. "The faculty's had mixed opinions about the silent protests."
MORE: Reed to revise Western Civ: too 'Eurocentric'
Myers didn't elaborate on disruptions caused by RAR that have led some students to complain they are being deprived of educations they are paying for. He simply said these actions violated the dissent policy.
Silent protests ended in October following two incidents where protests interrupted classes, resulting in the school disciplining the perpetrators for violating the dissent policy, according to Myers. He said they can no longer protest Hum 110.
On its website, RAR claims "the dissent policy has been used, historically and presently, to criminalize real dissent and protest at Reed."
Not 'two monoliths' in a culture war
Hum 110 has been taught at Reed College for more than 70 years. Its goal is to "teach students how to be college students," focusing on critical reading, analysis and "respectful discussion," Myers said.
He noted the course is supposed to be reviewed every 10 years, but that pressure from student protesters moved up the review one year, creating "a sense of urgency because they believed it wasn't meeting the needs of some students."
During every 10-year review, faculty and staff ask whether students are coming away with the proper tools to succeed and if the curriculum is doing everything the school wants it to do.
Before the protests the class curriculum was in constant flux, changing three times in the last five years, according to Myers.
He portrayed the additions of Mexico City and Harlem to the curriculum as a long process, with faculty overseers meeting more than 30 times to decide changes.
"A key reason these cities became a part of the curriculum was Reed College had the expertise available to teach these topics," Myers said.
The college's top spokesperson said the revisions to Hum 110 are being viewed by outsiders as "two monoliths" locked in a culture war, rather than a normal curriculum dispute.
Reed considers the protesters to be first and foremost students, Myers said:
Reed is small enough to where we know everybody by name. Even when the protests were at their worst, there was still present interaction between the protesters and administration.
MORE: Reed sit-in shuts down finance office, spurs no-contact orders
IMAGE: Lucia Martinez Valdivia/Twitter
Like The College Fix on Facebook / Follow us on Twitter