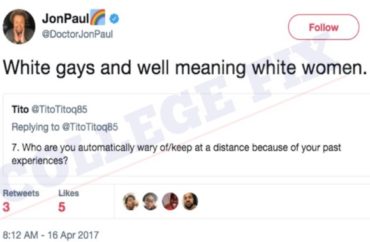 'An act of violence' against black queers
The Claremont Colleges' un-hiring of their new director for the Queer Resource Center – following tweets in which Jonathan Higgins expressed unease about people who are not queers of color – has sparked a backlash by self-proclaimed student affairs professionals.
Citing our reporting on Higgins' comments and the colleges' reaction, they wrote an open letter to two Pomona College officials involved in Higgins' un-hiring, saying the black man's sentiments are not uncommon among their colleagues and should not have been used against him:
We understand your choice to end Dr. Higgins' employment to be a form of gatekeeping that keeps Black queer professionals out of key positions to create change in higher education. …

If history has taught us anything, we know that Dr. Higgins' experiences and caution are valid. White gay men have become the primary enactors of violence toward queer people of color. Recently in Philadelphia, white gay men were angered because the city introduced a new pride Rag with added black and brown stripes.
They point to one of their colleagues at Florida's Rollins College, Mamta Motwani Accapadi, who has highlighted how white women "have enacted violence on people of color and served to perpetuate and benefit from white supremacy."
Higgins' defenders say that by focusing on "queer students of color" and "the harm of
heteronormativity, homonegativity, White fragility and White supremacy," Higgins is working towards "an equitable space" for all.
The signatories called the un-hiring "an act of violence and silencing of queer black voices" that "sets a dangerous precedent" for their profession.
MORE: LGBTQ director says he's wary of white gays, white women
They accused the officials – Pomona Dean of Students Miriam Feldblum and Associate Dean of Students Jan Collins-Eaglin – of representating the "large segments of white society [that] are more concerned about tranquility and the status quo" than justice, in the words of Martin Luther King Jr.
They demand Feldblum's resignation – also for "continuously refusing to support marginalized students" – as well as a public apology to Higgins and "a fully transparent search" for his replacement that includes feedback from "queer and trans students of color."
They also demanded "a carefully thought out plan" for such supporting such students and faculty, since "their advocate [Higgins] has been ousted," and the same kind of plan for "addressing White fragility and White supremacy [sic]" at the college consortium.
About 270 people had signed the letter at the time the Claremont Independent, which broke the story, uploaded it as a PDF. Not all have institutional affiliations listed, and only a few list their titles, raising the question how many are actually employed in student affairs.
College Fix readers might recognize at least one name on the signatory list. Last year Nick Thuot of Iowa State University shared a picture of a student's truck that had "WHITE POWER" written on the back, implicitly accusing the truck's owner of being a white supremacist before learning the truck had been vandalized.
Read the letter and Independent report.
MORE: Claremont Colleges reopen search for Queer Resource Center director
Like The College Fix on Facebook / Follow us on Twitter
IMAGE: Jonathan Higgins/Twitter
Like The College Fix on Facebook / Follow us on Twitter