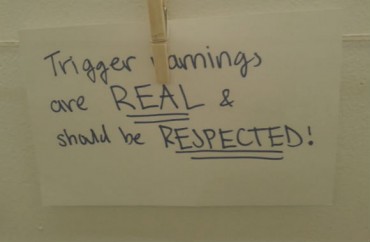 Group behind mysterious installation says it's 'not meant to be pro or anti-trigger warnings'
Students at all-women Barnard College apparently feel under siege by frequent claims in the media and among their peers that they are coddled.
An entire wall in the student center at the school, which is affiliated with Columbia University, was decorated with a sort of crowdsourced art exhibit earlier this month that some students feel defends the validity of trigger warnings.
Written on folded paper and pinned on a clothesline stretched taut across the wall, the notes state such self-validating messages as "people asking for trigger warnings are the opposite of 'coddled'" and "trigger warnings are REAL and should be RESPECTED."
RELATED: What passes for microaggressions at Columbia: White male professors, 'stressful situations'
No one took credit for the wall until the Collective Advocacy Project, a sub-group of the Writing and Speaking Centers at Barnard, confirmed to The College Fix the rumor that it was "responsible for the construction" of the installation.
The group formally announced its involvement in the trigger warning wall at a public reception Thursday, more than a week after it was mysteriously installed.
Columbia and Barnard student media have been full of discussions about political correctness and identity-group tensions this academic year, keeping student attention focused on how they are different from one another.
RELATED: Columbia slaps trigger warning and photography ban on poorly advertised rape exhibit
The messages are "amusing to look at," Barnard student Toni Airaksinen told The Fix, speculating that the wall project probably came about as a result of "increased campus conversation" on the "issues of race, class, transgender issues, and queer issues."
Though anyone can post a message on the wall explaining why they want trigger warnings, Airaksinen said, she thinks it flies in the face of efforts to debate such issues in good faith at Barnard.
"Opinions on trigger warnings are mixed here," she said, adding that she's seen people at Barnard and Columbia demand or request trigger warnings for subjects such as "crime, drugs, sex references, dogs, politics, mental illness, and violence."
RELATED: Trigger warnings are coming to U.K. universities, while Columbia pretends it hasn't caved to activists
Airaksinen said she hasn't seen "any public criticism" of the exhibit from officials, and "most people I know who don't believe in [trigger warnings] never express their opinion, because of the potential consequences of doing so."
In contrast, trigger warnings are almost never used or requested at Airaksinen's former school, Cleveland State University, she added. That university adopted an "Expressive Activity Policy" in November that protects student speech outdoors on campus, using the same wording as a policy adopted by the University of Toledo in collaboration with the Foundation for Individual Rights in Education, FIRE said this week.
RELATED: Columbia student: Why I'm worried about the 'triggering' threat to the Core
Skyler Samuelson, the co-coordinator of the Collective Advocacy Project, told The Fix that "the exhibit is definitely not meant to be pro or anti-trigger warnings. The concept of the interactive installation is the creation of a space for dialogue surrounding the topic."
Though she indicated her willingness to speak further, Samuelson has not answered a subsequent Fix query.
The Writing and Speaking Fellows program launched the Collective Advocacy Project in the 2014-15 academic year with the purpose of helping students and student groups "address any and all of their speaking and writing needs as related to their involvement in communities on campus" through workshops.
The project helps students write op-eds, prepare for presentations, "figure out how to compose catchy fliers [sic] … and how to communicate with campus bureaucracy," among other possible tasks, it says.
RELATED: Student Shaming Columbia For Rape Response Claims Media 'Triggered' Her
Like The College Fix on Facebook / Follow us on Twitter