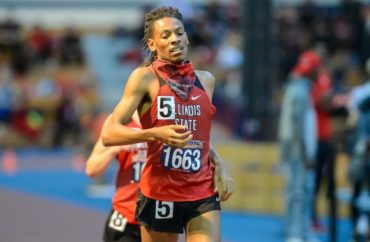 Athletic director apologized for comments
Student-athletes at Illinois State University are boycotting practices because the school's athletic director offended them with a comment during a conference call at the end of August.
Athletes at the public university in central Illinois announced a boycott after Larry Lyons, the school's athletic director, said that "All Redbird Lives Matter," a version of the "All Lives Matter" statement that used the school's team name instead.
The Chicago Sun-Times reported:
Students in all but one of the university's 17 athletics programs have said they won't return to their teams until their list of social justice demands are met, including a concrete, comprehensive plan of action to support racial justice protests and a commitment to diversity in the athletics administration. The missed team events are mostly practices because competitions are postponed or canceled because of the coronavirus pandemic.

The Athletic Department released a plan Monday afternoon that partially addressed some of those issues, but that athletes quickly said was insufficient.
The Chicago Tribune reported that the baseball team is the only team that does not have athletes participating in the boycott.
Kimathi Johnson, a track and field athlete, posted the list of demands on his Twitter account on August 30.
The list includes: required diversity seminars for the entire athletic department, putting "more people of color in positions of power," "more diversity in athletic trainers and student athletic trainers," and a plan for the athletic department to publicly support Black Lives Matter.
As athletes, We demand change, we demand safety, and we demand a commitment to ensuring black lives matter at ISU.

There are still many more voices to be heard from our fellow athletes, however we must know the administration is committed to change first. pic.twitter.com/P2UiQHZ0yV

— Kimathi Johnson (@KimathioJohnson) August 30, 2020
The student-athletes say they will not end their boycott until that last demand is met. The Athletic Department released a response on August 31 that appeared to largely agree to the demands of the athletes.
Jeff Proctor, a running back at the school, said Lyons' comments downplayed the Black Lives Matter movement.
"It makes us feel like that he doesn't have our back and doesn't care about the Black community," Proctor told the Vidette, the campus paper. "How a lot of people took it is down playing the Black Lives Matter movement."
Even coaches at the school criticized Lyons.
"The movement is BLACK LIVES MATTER. The statement 'All Redbird Lives Matters' is insensitive and frankly one that attempts to drown the movement," Mary Wood, the associate head track coach, tweeted August 27.
Lyons explained his comments and apologized in an August 28 comment to the campus paper:
My intention was to tell all 413 student-athletes that they matter to me and I care about them. The words I choose to use, 'All Redbird lives matter' was offensive to many of our student-athletes and I know I hurt a significant number of them by the choice of those words. That was not my intention and I am truly sorry for that.

Black lives do matter and I am serious when I say that, and all Redbird student-athletes lives matter equally. I should have said that, and I did not. I have a lot of trust to build back.
At least one athlete refused to attend an August 26 apology meeting with Lyons.
Mya Robinson, a track athlete at the school and a sports reporter for the campus paper, wrote that she cannot forgive Lyons.
"I did not attend the meeting for his apology because I do not want to hear his pity toward us," Robinson wrote. "He was wrong, and for that, I can never forgive him."
MORE: Syracuse athletes feel upset because white peer was given second chance
IMAGE: Illinois State University Athletic Department
Like The College Fix on Facebook / Follow us on Twitter