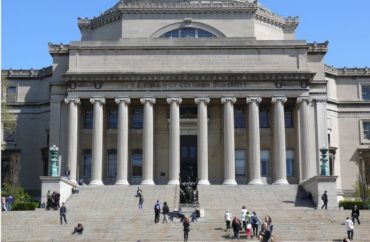 A Baruch College student is calling for an investigation into a Columbia University politics professor who called him a "Neo-nazi murderer lover" and told him to "drop dead."
In April, Gabriel Montalvo, a student at Queensborough Community College at the time, took to Facebook to comment on a political cartoon critical of President Donald Trump's handling of the coronavirus epidemic.
"People choose what they want to see and everyone has an opinion," Montalvo wrote in response to the cartoon. He also noted it wasn't helpful that media outlets had been using footage of crowded Italian hospitals to criticize Trump for America's coronavirus problems.
He soon received a response from Columbia Professor Jeffrey Lax, who accused Trump of "murdering his own people through lies and actively horrible choices."
From there, the conversation devolved, with Lax defending House Speaker Nancy Pelosi for ripping up Trump's "racist bullshit speech" in 2020.
"Why don't you just drop dead, you neo-nazi enabler," Lax told Montalvo.
"How ironic that the most educated person on this thread is also the most incompetent who results in playground insults," Montalvo answered. "Rather than having a discussion you would rather me die? Aren't you a political science educator? I could only hope that the students who take your course get a refund."
Lax replied by calling Montalvo a "Neo-nazi murderer lover." He later blocked Montalvo on Facebook.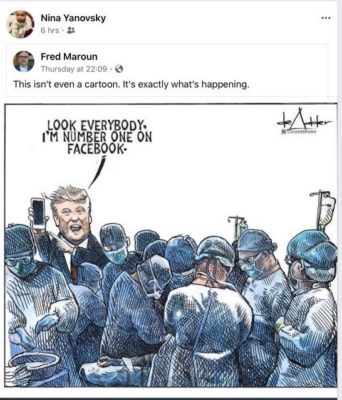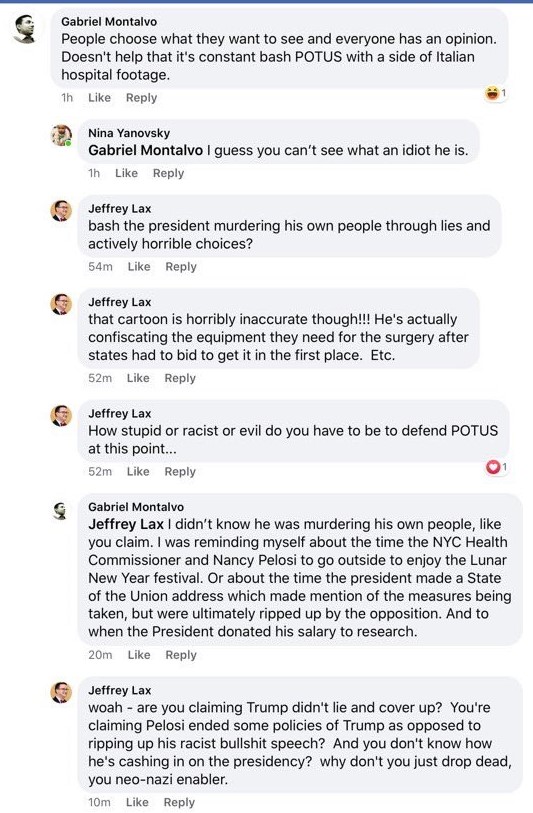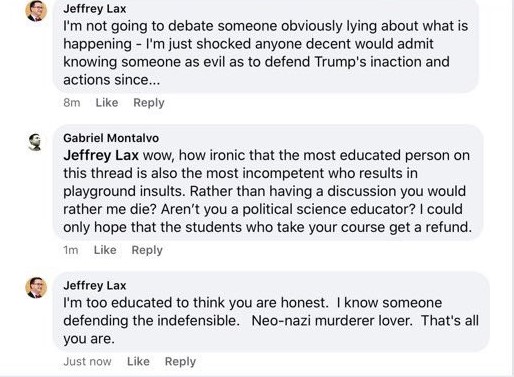 "All I did was defend then-President Trump in an attempt to have a civil conversation," Montalvo told The College Fix in an email.
"There are many stories of conservative students getting spoken down to and singled out by educators with a false sense of entitlement every day, and some, never get heard. I wanted to expose this and put those professors on notice, a difference of opinion isn't cause to belittle someone" Montalvo said of his decision to go public.
Both Columbia and Lax did not respond to requests to comment for this story.
While Montalvo said he wouldn't support Lax being fired over their exchange, he supports an investigation into Lax's behavior in the classroom.
"While I realize I am not a student at Columbia, I wanted there to be an investigation on how he treats his students in the classroom, and if he grades fairly. It doesn't seem as though Lax can tolerate a different viewpoint and would lower a person's score on account of it," Montalvo said.
Lax is an outspoken progressive, frequently taking to Twitter to criticize Republicans and support liberal causes like the implementation of critical race theory.
Montalvo has asked Columbia to "get the professor anger management or counseling as he appears to have anger issues to act out in such a manner." He noted Lax has a poor rating on RateMyProfessors (based only on three reviews), with one student calling Lax "the absolute worst professor that I have ever had."
Lax, however, does have his defenders.
Last week, the Foundation for Individual Rights in Education supported the professor's First Amendment right to criticize Montalvo on Facebook.
"The exchange does not violate Columbia's free speech guidelines or the First Amendment," wrote FIRE's Alex Morey.
"Quite to the contrary, both the First Amendment and Columbia's own guarantees of free expression protect precisely this sort of divisive political exchange," wrote Morey, praising Columbia's broad academic freedom protections.
But the Columbia College Republicans' spokesperson Cameron Adkins told Campus Reform: "Intolerance and childish outbursts are not what we expect from professors at an expensive Ivy League Institution."
Montalvo, a member of the U.S. Army since 2017, said ultimately, all he was looking for was an apology from Lax.
"I called the school several times asking if there was any update on an apology or if they took my investigation suggestion as I filed a formal complaint," he said. "To this day, I am still waiting for the school to get back to me."
MORE: Students launch communist club at Columbia University
IMAGE: Ad Meskens/Wikimedia Commons
Like The College Fix on Facebook / Follow us on Twitter