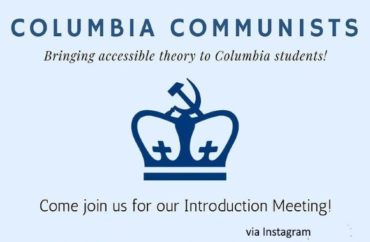 UPDATED
At Columbia University, a group of students recently launched the "Columbia Communists."
"Do you want to be a part of leftist discussion, engage in mutual aid, and better understand leftist theory? Join us today and be apart [sic] of the movement!" reads a post on the group's Instagram page.
The organization's symbol is Columbia University's famous crown, modified to include the hammer and sickle.
Communism, a revolutionary ideology founded by Karl Marx and Friedrich Engels, is responsible for 100 million deaths in the twentieth century.
The newly formed student group at the Ivy League institution is set to host its first "Columbia Communism Club" meeting later this week, according to its Instagram page. Its tagline on social media is: "Bringing accessible theory to Columbia students – Workers of the world, unite!"
The club did not respond to requests for comment from The College Fix. University media relations did not respond to requests for comment either.
So far the "Columbia Communists" have over 200 followers on Instagram. Its first post was in March 2021 with the comment: "Coming Soon: Summer/Fall 2021 – Fill out the form in our bio for an invitation to our Discord!"
The Columbia Republicans told The College Fix its members are not shocked by the new club's launch.
"The Columbia Communist Club's establishment is not surprising to most on campus. It publicly reveals something we already know, the university fosters failed Marxist ideology. It's ironic how students at an extremely selective, prestigious university with a 3 percent acceptance rate can preach communist theory," the Columbia Republicans said.
Indeed, communists at Columbia are not new.
In July 2020 on the "Columbia Confessions" Facebook page, one student noted: "I can't take columbia communists seriously (to anyone who says there are no communists on this campus has not met the large raving group of them). You literally chose to go to a university which is over 400% the price of most state schools for the prestige and prestige only."
"…For people who claim to want to completely redistribute all wealth, you chose a place that exasperates the wealth disparity you want to destroy. … It's only cool to say you're a communist but when it comes to actual practice, there's legit no action."
Columbia also used to host a Barnard Columbia Socialists student group, but according to a November 2019 Facebook post that group merged with the school's Young Democratic Socialists of America chapter.
Columbia YDSA still remains active on campus. On May 10 it hosted an event on how to abolish police and the prison system.
Join us tonight to discuss how we can fight for a world without police and prisons, featuring State Senator @JabariBrisport! RSVP: https://t.co/1LWWdNBtBt pic.twitter.com/deQ0Gb5IPU

— YDSA (@YDSA_) May 10, 2021
In 2019, The College Fix reported that a Columbia professor who fled communism resigned because, in his words, he "felt like he was living under communism again" at the university.
His comments were made after he was told in a faculty meeting that his department would no longer hire white, heterosexual men, even if they are the most qualified candidates for the job.
Editor's note: This article was updated to include a comment from the Columbia Republicans.
MORE: Environmental group demands Columbia U. declare a 'climate emergency'
Like The College Fix on Facebook / Follow us on Twitter