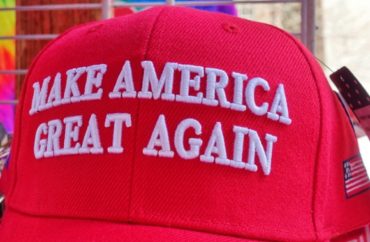 UPDATED
According to Jeffrey Omari, a visiting assistant professor in the Center for Civil and Human Rights at Gonzaga University School of Law, a student who wore a Make America Great Again hat in his classroom was being an ignorant punk, or worse.
Omari, in a July op-ed in the American Bar Association Journal, accused his third-year white law student of "racial antagonism" for wearing the hat to class.
Without naming the student, Omari wrote: "From my (progressive) perspective as a black man living in the increasingly polarized political climate that is America, MAGA is an undeniable symbol of white supremacy and hatred toward certain nonwhite groups."
"… I was unsure whether the student was directing a hateful message toward me or if he merely lacked decorum and was oblivious to how his hat might be interpreted by his black law professor. I presumed it was the former. As the student sat there directly in front of me, his shiny red MAGA hat was like a siren spewing derogatory racial obscenities at me for the duration of the one hour and fifteen-minute class," Omari wrote.
"…As my blood boiled inwardly, outwardly I remained calm. In an effort to assuage the perceived tension, I jokingly told the student, 'I like your hat,' when he raised his hand to participate in class discussion. Without missing a beat, the student mockingly grinned from ear to ear and said, 'Thank you,'" the professor added.
The law scholar concludes by arguing that "normalizing such controversial political attire in the classroom likely does little to improve the diversity and inclusion that these institutions supposedly seek" and "in academic settings 'making America great again' suggests a return to the days when women and people of color were denied access to these very institutions."
Now, a month later, student Austin Phelps, who has worn a MAGA hat in Omari's class, has defended doing so. Although he is apparently not the student Omari's was specifically referring to in his op-ed, according to a campus spokesperson, Phelps nonetheless took the opportunity to discuss the issue in his own op-ed for the ABA Journal.
Published last week, Phelps' column took a stand for freedom of expression.
"After reading his article, I understand why I was not called on with the frequency that left-leaning students enjoyed. The article further creates a feeling of unwelcomeness from Omari toward students of different mindsets," Phelps wrote.
As for Omari's notion that the hat prompts "racial antagonism," Phelps argues that's not true:
When we wake up in the morning, we choose an outfit based on business necessity and style preferences, which are inspired by personal convictions. To wear a Pride pin on one's suit is not a premeditated attack on those who oppose legalizing same-sex marriage, just as wearing a MAGA hat is not an attack on people of color. Either of these acts, as with all other style choices, are simply a manifestation of personal philosophies.

Many Americans, when wearing the MAGA hat, do not have malice in their hearts or minds, they simply want to express themselves. While getting dressed that morning, my mind was on the fact that I was dreading missing my little brother's 8th birthday. I was in a mental state of sorrow, not of malicious intent. …

Wearing a MAGA hat or any other conservative paraphernalia does not make me a white supremacist, anti-Semite, bigot or any other stereotype that may be misapplied. The purpose of wearing a MAGA hat is to identify as a supporter of Donald Trump and as a believer in conservative values.
Nevertheless, Phelps' right to wear whatever he wants is now a thing of the past.
The student notes that after he wore a "Build the Wall" T-Shirt, he was reprimanded by his supervising attorney, and shortly after that a new dress code rule was added that forbids messages or slogans.
"The unfortunate reality in 2019 is that many conservative students do not speak up or identify themselves," Phelps writes.
"… Next time you see someone wearing the red hat, in the classroom or on the street, take five minutes to ask them about why they wear it instead of avoiding the conversation. With a mindset absent of any prejudice, you may understand that there is logic and reason behind the principles that conservatives stand for, as there is for liberal beliefs."
Read Omari's op-ed and Phelps' rebuttal.
Editor's note: After publication, Gonzaga University spokesperson Mary Joan Hahn contacted The College Fix to note that Phelps was not the specific student Professor Omari was referring to in his column. "Apparently more than one student wore than kind of apparel in class," she told The Fix. The article previously stated Phelps was the unnamed target of Omari's op-ed. It has been amended to reflect the new information.  
MORE: Prof denounces student's MAGA hat: 'Undeniable symbol of white supremacy'
IMAGE: Shutterstock
Like The College Fix on Facebook / Follow us on Twitter