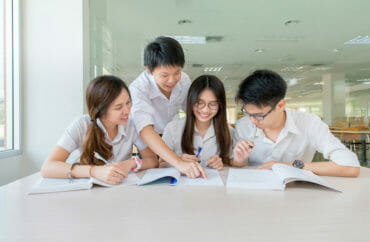 'Living learning unit' would offer Asian-American students racially exclusive housing
A student government at a notable private American university has called for racially exclusive housing for Asian and Asian-American students, citing "racial incidents" as a justification for the segregated housing.
Cornell University's Residential Student Congress "called for the creation of an Asian and Asian-American cultural residential area consisting of one floor in a residence hall by passing a resolution in a Monday meeting," according to The Cornell Daily Sun.
The resolution, which was unanimous, according to a Facebook post on the Congress's Facebook page, "aims to affirm the identities of all minorities, and provide a space for celebrating Asian and Asian American heritage," according to that post.
As reported by The Daily Sun, the resolution comes on the heels of the university's approving a "queer-inclusive program house." That housing is meant to address, in part, "the added risk LGBT students face in situations such as coming out to a roommate."
From the recent Daily Sun report:
Kianna Early '18, RSC president, said that the recent racial incidents on campus and the University's plan to expand North Campus motivated them to push for cultural housing for students of Asian descent.

"We have been planning this for a long time. With the upcoming north campus expansion and the racial incidents last semester, we feel like now is a good time to introduce it," Early said.

She said the Asian cultural residential area, if established, will "serve similar function" to Asian-interest fraternities and sororities.

"There's not really a big difference between the Asian house and the current Asian-interested fraternities and sororities," Early said. "The only difference might be living on or off campus."

Emily Lin '20, however, saw the proposed living learning unit as "just another housing option."

"In fact, I wouldn't want to live in a bubble," Lin told The Sun.
One student, Shivani Parikh, who sponsored the proposal, expressed hope that the Asian housing would expand to more than one floor, telling The Sun: "[T]he Latino Living Center started out as one floor and evolved into the full program house it is today, so there is the potential for that actuality for the Asian-American community as well!"
MORE: Student op-ed: Asian students 'oppressed' due to 'new' political correctness
IMAGE: Prasit Rodphan / Shutterstock.com
Like The College Fix on Facebook / Follow us on Twitter