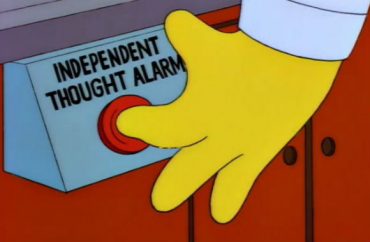 A scandal-plagued university is indifferent until a court intervenes
I've spent the better part of a decade working to develop a TV show about a middling college and its besieged student newspaper, and I've stopped being surprised that so much of what we cover today at The College Fix was foreshadowed in scripts I co-wrote during President Obama's first term.
Case in point: There's a public university where the student government gets to veto the student newspaper's choice of editor-in-chief, not just kneecap the paper with retaliatory budget cuts for its unflattering coverage or controversial opinion columns.
And this isn't some sleepy little university where nothing newsworthy happens and the student government wouldn't be afraid of campus news coverage.
This is Florida Atlantic University, the sixth-largest university in the state, which returns five pages of search results in our archives for incidents such as:
And according to The Sun Sentinel editorial board, FAU could find itself in court if it doesn't overturn the decade-old veto policy, which was just used to ax the University Press staff's unanimous choice for editor-in-chief this spring.
Joe Pye was a bit more forthright than a Supreme Court nominee in his confirmation interview with the Student Senate, which disburses student activity fees to organizations on campus including the Press. He told student leaders that he planned to "keep watch over all you guys."
MORE: Satire publication punished because Title IX overrules Constitution
They rejected his editorship 5-3. He's working for free as the unofficial EIC, though his attorney is fighting for him to be awarded back pay. Pye said he'll drop the legal effort if the university axes the veto policy.
Pye was already approved unanimously by the Student Media Advisory Board, which reviews the staff vote and includes professional journalists, and it may vote for him again at its Tuesday meeting, according to the Sun Sentinel.
The school's lawyer told the editorial board he had only begun looking into the dispute, and suggested the university would overturn the student government only if its rules were found unconstitutional – not because letting student leaders censor campus media coverage is a bad thing.
You can see why the school wouldn't terribly mind a kneecapped Press, reading this article about its plummeting state ranking.
University falls in Florida university rankings, faces budget cuts
Public records requests? Screw you
It's actually not surprising that student leaders want to control what the paper can publish, because the administration has repeatedly punished and retaliated against student media, according to Frank LoMonte, the director of the Student Press Law Center:
In 2013, the university stopped honoring public record requests for student editor Dylan Bouscher because of his aggressive reporting.

"It was totally against the law," Lomonte said.

Bouscher was also threatened with suspension from FAU because university police didn't like where he was standing at a crime scene. The university's discipline board actually followed up on the case, and the editor was forced to plea down to a lesser charge to avoid suspension. All in the name of practicing journalism.
MORE: Real target of all-media defunding vote? Offensive student paper
The Press also has one of the brashest journalism advisers that I've ever encountered, Michael Koretzky ("the Simon Cowell of college media"), whom FAU fired in 2010 in a blatantly retaliatory move. He was hired back by the Press as a "permanent guest speaker," according to the Sun Sentinel.
We've covered Koretzky a few times: He started his own one-man campus paper to shame the Press for lackluster reporting and leads a Society of Professional Journalists project that acts as free mercenaries for student journalists, including a Christian editor who was fired for alleged bias.
I can understand why student leaders and administrators are tired of the uppity Press and its bad-boy journalism adviser.
FAU seems to always be on the verge of scandal, and it's beyond annoying for the newspaper that students themselves fund to be constantly digging for dirt that could cheapen their degrees, to say nothing of creating trouble for administrators and faculty.
There's an easy solution for the administration, if it's willing to be patient: get rid of student media entirely and cite a credible financial reason (unlike UC-San Diego's risky plan to defund The Koala). It would force the Press to go private and raise its own money to publish.
The obvious problem with that, of course, is Michael Koretzky might just start an even more annoying student newspaper on his own dime.
MORE: Judge validates Jim Crow by ruling against paper that mocked 'safe spaces'
Like The College Fix on Facebook / Follow us on Twitter
IMAGE: Frinkiac.com