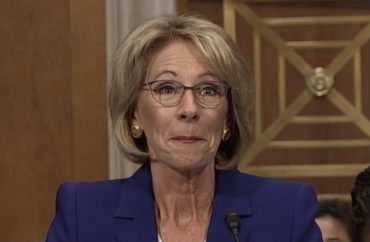 Department of Education passes the buck
If you don't want your event to get much coverage, let the media attend with no restrictions. If you want it to blow up, tell them they can't attend.
Editors from the student newspaper at Paul Laurence Dunbar High School in Lexington, Kentucky, showed up to cover a roundtable discussion with Gov. Matt Bevin and Education Secretary Betsy DeVos*. They were prevented from even getting out of their car and repeatedly told it was "invitation only," according to a PLD Lamplighter editorial Thursday.
The event on "Education Freedom Scholarships" at Bluegrass Community Technical College was not listed as invitation-only, however. The student journalists had learned about it a day earlier "over social media and from our local news stations," which did not mention any prerequisites to attend.
What they didn't see until after they were turned away was an Education Department press release that specified "credentialed media" had to RSVP, though it also says the event was "open press."
The student journalists are right to suspect that this 11 a.m. Wednesday event was scheduled and advertised in such a way as to minimize the presence of students and teachers, given that the subject – school choice – is so polarizing:
There were social media posts that exhibited confusion from parents, students, and educators—especially because no public school representatives were participants in the event.

We emailed [Fayette County Public Schools] Superintendent Manny Caulk to ask if he had been invited, and he answered that he had not.

Of the 173 school districts in Kentucky that deal directly with students, none were represented at the table. Zero. This is interesting because the supposed intention of the event was to include stakeholders–educators, students, and parents.
Student reporters from @pldlamplighter were denied access to a roundtable discussion on education featuring the Secretary of Education Betsy DeVos. https://t.co/x0WIqyRJ5y

— Student Press Law Center (@SPLC) April 19, 2019
The Department of Education surely knows that local student journalists would have an interest in covering this event but won't be savvy enough to know to contact the media relations office. It could have included them on the press release distribution list. It could have told the hosting college to make accommodations for them.
A department spokesperson dodged responsibility for failing to take account of student journalists who would like to have known how to attend the event.
"No one from the Secretary's staff was made aware that student journalists were attempting to attend the roundtable," Liz Hill told the Lamplighter, saying she would look into "what, if any, miscommunication might have happened between other staff on site for the event." The college spokesperson said it was DeVos's team that forced them to use an "invitation list."
The Lamplighter editors are right to be miffed:
The bottom line is that we do not think that it is fair to have a closed roundtable about education when it affects thousands of Kentucky teachers, students, and parents.

Governor Bevin is quoted as saying "It is remarkable to me that this is even remotely debatable."

Well, Governor, when students can't attend a roundtable discussion about what's best for students, how can you possibly be surprised that people are upset?
MORE: University scolds student journalists for asking profs for interviews
IMAGE: ABC News/YouTube
Like The College Fix on Facebook / Follow us on Twitter