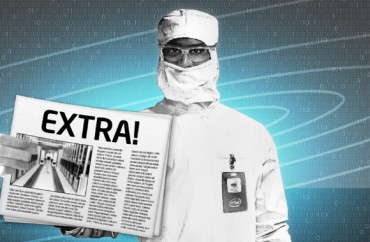 Administrators harassing you? Try GoFundMe
Iowa student journalists who sued their college in May, for letting faculty and staff "intimidate and harass" them owing to their news coverage, aren't waiting for the legal process to play out.
A handful of former staff at Muscatine Community College's Calumet, newly graduated, went rogue and launched their own newspaper last week, aptly named The Spotlight, with ongoing help from their old faculty advisers.
That may be a wise choice: Leaders of another Midwestern student newspaper just withdrew a lawsuit against their school on similar grounds, following a setback in court.
The allegations of top-down harassment against Calumet staff go back to nearly two years.
After the paper ran a story about a two-time "Student of the Month" award winner, the student senate's faculty adviser – the award winner's uncle – filed an equal employment opportunity complaint against Jim Compton, the paper's adviser.
Muscatine hired a private investigator, who coerced reporters to "participate in interviews" about Compton without legal counsel; Compton was removed from his full-time position as adviser and issued a "letter of discipline"; and journalism classes were moved into inconvenient time slots while The Calumet's budget was slashed by more than half, the suit claimed.
The incoming dean also told the paper after it ran his headshot that it needed permission to run any photographs in the future, as The College Fix noted then.
No more walking on eggshells
The Spotlight raised a staggering $5,000 in the first three days of its GoFundMe campaign, or 10 times the staff's goal for the first edition. Donations are still flowing in, and members of the Society of Professional Journalists have promised to match donations up to $500. The paper is available in print form at several local businesses.
"Our desire to start up our own paper was largely born from our desire to continue holding those in positions of power accountable, and it seems many who donated to The Spotlight share this impulse," the staff wrote on the Spotlight homepage. Both Compton and previous Calumet adviser Lisa Powell are on board.
Without the looming threat of administrators, The Spotlight's debut issue included stories about The Calumet's plight and the experiences of other student papers that are fighting their administrations' attempts to control their coverage.
"Discipline Appeal Denied, Despite Lack of Evidence" reports on Compton's failed attempt to get his "disciplinary action" removed from his Muscatine file and the process behind it.
"Image-Conscious Colleges Reassign Advisors" tells the stories of newspaper advisers at Muscatine, Northern Michigan University and Delta State University, who allege they were removed in retaliation for encouraging student journalists to tackle controversial topics.
The Spotlight even took a stab at an undercover investigation of an elder-care facility where one of its staffers worked, until "the company became aware of her intention to interview patients" and fired her, an editor's note states.
Co-founders Mary Mason, Tarsa Weikert and Alexis Huscko did not respond to College Fix interview requests.
FOIA fundraising
Former leaders of The North Wind at Northern Michigan University are taking a different path than The Calumet's expats.
The ousted adviser, Cheryl Reed, and Managing Editor Michael Williams had filed a lawsuit against the paper's board of directors, alleging it illegally removed Reed and refused to approve funding for Freedom of Information Act requests, essentially chilling The North Wind's reporting.
In a ruling last week, however, a federal judge refused to grant an injunction reinstating Reed as the paper's adviser as the lawsuit continues.
Judge R. Allan Edgar said eight of the nine members of the board were not "state actors" because they are students, and thus didn't violate the plaintiffs' rights.
"The Board, and each of its members, have First Amendment rights as well as the plaintiffs," Edgar wrote. "If indeed the defendants were motivated in the action they took by the editorial content of the North Wind, they were only doing their job as required by the by-laws."
In response, Reed and Williams dropped their lawsuit, partly out of fear of setting a "destructive precedent" that would hurt other college media, Reed told the Student Press Law Center.
The paper launched a GoFundMe campaign on Monday to raise money for North Wind staff to obtain documents through FOIA. As of Thursday night, the campaign had raised $350 towards its $1,000 goal.
Frank LoMonte, executive director of the Student Press Law Center, is also spearheading a legislative campaign in Michigan to protect student journalists and advisers from retaliation by their schools.
Edgar should have ruled unconstitutional the bylaw provision that gives the board editorial control, LoMonte said.
"The whole provision in the board bylaws that gives the board responsibility for tone is one of the underlying issues in this case," LoMonte told the center. "There's no question that you can't have a government-appointed board controlling the content of the student media."
Like The College Fix on Facebook / Follow us on Twitter
IMAGES: Intel Free Press/Flickr, Northern Michigan University