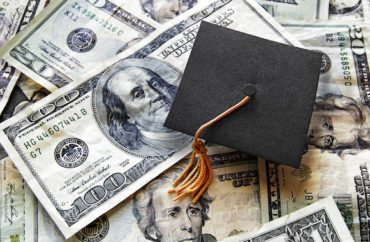 'One of the biggest financial pressures on Americans is their post-college debt,' analyst says
Student loan debt is not evenly distributed across the country, as some places have residents more heavily burdened than other areas, according to data compiled by WalletHub.
WalletHub recently compiled data of student debt and median earnings of bachelor's degree holders categorized by city for the year 2023.
The personal finance company looked at 2,519 cities and used "the median earnings of adults aged 25 and older with a bachelor's degree."
The personal finance website found that student loans make up the "highest form of household debt after mortgages."
The College Fix reached out to WalletHub to ask about the overall significance of these findings and why student borrowers seem to be burdened the most.
"One of the biggest financial pressures on Americans is their post-college debt," WalletHub analyst Jill Gonzalez told The Fix.
"In fact, with a record $1.63 trillion in debt, student loans are the second largest category of household debt behind mortgages," Gonzalez said.
WalletHub found that this $1.63 trillion amounts to about $37,600 per borrower.
"The study's findings indicate that some regions of the nation are more financially unsustainable than others when it comes to student loan debt," Gonzalez said.
"Due to inflation, rising college costs, and other expenses, the majority of borrowers in these areas put off other financial goals like saving for retirement or buying a home and end up overleveraged," she said.
One example is Walterboro, South Carolina, the most overleveraged city according to WalletHub's data.
"The median student debt here is among the largest, making up over 82% of the median earnings," she said.
Meanwhile, the least overleveraged city is Mckees Rocks, Pennsylvania, where the median student debt is only $725. The city also performs the best for the ratio of student loan debt to earnings.
The median earnings of bachelor degree holders in the PA town is $38,892.
The amount puts it just behind residents of Ypsilanti, Michigan where the median earnings amount for bachelor degree holders is $38,968. However, those earners took on a median student loan debt of over $25,000 to make about the same amount.
Prior research has shown that even individuals who received relief from student loan payments did not use the opportunity to pay down debt, but instead actually increased their borrowing.
Instead, borrowers "increased private debt for paused public debt," according to a study from University of Chicago researchers.
The trio of researchers found that "borrowers used the new liquidity to increase borrowing on credit cards, mortgages, and auto loans rather than avoid delinquencies," as previously reported by The Fix.
MORE: It is possible to pay off student loans with work, discipline
IMAGE: zimmytws/Shutterstock.com
Like The College Fix on Facebook / Follow us on Twitter