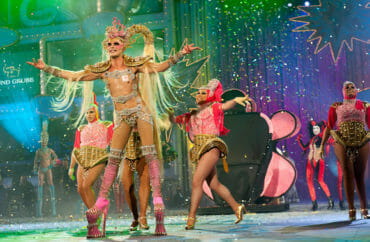 'Drag is not neutral'
A student op-ed at The Harvard Crimson has blasted one of the university's theatrical troupes as bigoted, calling it "anti-Queer, anti-Brown, and anti-Black."
Nicholas Whittaker accused Harvard's Hasty Pudding Theatricals group of being "not actively pro-Queer, pro-Brown, and pro-Black and so necessarily anti-Queer, anti-Brown, and anti-Black," and said consequently that its famous drag show "never could be drag."
Whittaker compared Hasty Pudding Theatricals unfavorably to "Venus Xtravaganza," a "small Latinx trans drag queen" famous in 1980s New York.
Venus Xtravaganza "dances because she knows the beauty of her Brown skin, her Queer body," Whittaker writes. "Her dance gives her power. How else, but by dancing, can she live in a world that mercilessly crushes Brown and Black, Queer and trans bodies, crushes them under its anti-Queer, anti-Brown and anti-Black healthcare and legal system and education system and culture and police state? How else, but by dancing, can Venus Xtravaganza breathe?"
"Does anyone in the Hasty Pudding Theatricals even know Venus Xtravaganza's name? If not, how can they know what drag really is?"
"Drag is Queer," Whittaker says, "and drag is Brown and Black. The ballroom is a battleground, and voguing—the dance of drag, our triumph—is a battle cry."
First: the Hasty Pudding is not a Queer or Brown/Black organization. While many members may identify as Queer or of color, the Hasty Pudding has never been known to use its expansive budget or influence for Queer Brown folks. While the Hasty Pudding qualifies itself as philanthropic due to its donations to multiple arts groups, and while those donations may do some peripheral good for Queers of color, this is not equal to a sustained dedication to politically disrupting Queerphobia and white supremacy. When has Hasty Pudding ever donated to the hundreds of individuals and groups specifically dedicated to liberating Queer Brown folks? When has the Hasty Pudding ever stood against the murders of Jamie Lee Wounded Arrow and Chyna Gibson? Queerness and Brownness are political, and screwing with gender is political, for the structures of society are implicated in our survival. Until the Hasty Pudding tangibly disrupts racist anti-Queer and trans-deadly legal, political, economic, and social structures, it fails to be radically Queer or radically Brown.

Second: the Hasty Pudding has historically been structured to discredit and disempower womxn ("womxn" is a rejection of the simplicity of "women," an embrace of the multiplicity of non-male identity and a way we screw with gender). Drag has never been exclusively for cisgender men. Drag is the discarding and mockery of gender, and the Hasty Pudding, in historically restricting gender performance to men, has strengthened the very systematic gender structures drag seeks to dismantle. To view the Pudding's recent decision to let women audition as a pro-womxn victory would be a mischaracterization. There are generations of systematic exclusion of womxn to overcome, most pointedly the disproportionate possession of power by men. And, more importantly, opening this space to what seems likely to primarily be—based on current composition—rich, white women fails to address the lack of support for womxn folks from this organization.

Third: the Hasty Pudding originated from a legacy of elitism. Remember: for Venus Xtravaganza, Paris is Burning, and drag rises from the ashes of a Brown Queer declaration of war against a world that hates us. But the Hasty Pudding does not come from those ashes. Rather, it was first and foremost a "a no-holds-barred burlesque" deeply tied to the toxicity of final clubs, a wealthy, white organization steeped in privilege. Its lineage consists of the cisgender, white men John Adams and Franklin Delano Roosevelt—hardly Queer icons. These men were not racist homophobes, you may protest, but that is besides the point. Their (presumed) neutrality cannot save them.
"Imagine a Hasty Pudding built by and for Brown and Black folks," Whittaker laments, "and one that finally admitted that womxn can screw with gender too."
MORE: Harvard's drag troupe lets women audition following boycott threat by celebrity
IMAGE: Criben / Shutterstock.com
Like The College Fix on Facebook / Follow us on Twitter