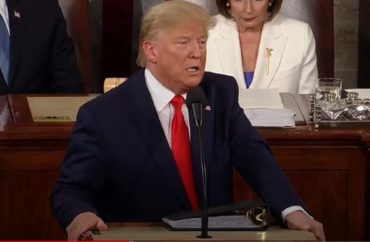 Said Harvard should make clear 'it is not proud' of these alumni
A Harvard Law School student wants the Ivy League institution to disavow alumni who have worked or are currently working in President Donald Trump's administration.
Kaivan Shroff, who is also a student at Harvard University's Kennedy School, acknowledged that it's not out of the ordinary for Harvard alumni to work in presidential administrations, but said that the amount of alumni working for President Trump needs to be addressed.
He wants university officials "to publicly commit to values consistent with its mission by denouncing its cartel of Trump administration alumni," though he said it should not be "conflated with efforts to have prominent universities rescind degrees."
Writing in the student paper The Harvard Crimson, Shroff said:
The Trump administration's critical mass of Harvard alumni, however, is distinct and the University should address it. Dozens of Harvard alumni seem more than eager to assist the Trump administration in its horrific actions, lending Harvard's institutional legitimacy to an administration that opposes the University's mission.

Trump and his army of Harvard graduates hope to dismantle democracy, undermine the very concept of truth, and expunge the scientific community. Harvard owes its past, current, and future community members a statement of its position on the defective alumni it has produced — alumni who are destroying the fields and institutions students came here to study.
He criticized alumni such as Jared Kushner, an adviser and the son-in-law of President Trump, for his efforts to organize a private sector response to coronavirus and Press Secretary Kayleigh McEnany for "spread[ing] disinformation about vote-by-mail." He also criticized people including alumnus Anthony Scaramucci, who served for 11 days in the White House as the communications director, but now has become a vocal opponent of President Trump.
I'm voting for @JoeBiden and @KamalaHarris on October 24th, how about you?

— Kaivan Shroff (@KaivanShroff) October 19, 2020
Shroff criticized Harvard for remaining silent on its alumni working for Trump. "Harvard's silence on graduates as recent as 2016 using their Harvard degrees to wage a full-fledged assault on the truth is unworthy of the University's own 'Veritas' motto," Shroff wrote.
He continued:
Failure to take a position or set the record straight on Harvard's expectations of its alumni is a tacit endorsement that power itself is the school's only true value. Discussions of ethical and moral leadership in my classes at Harvard Law School and the Kennedy School ring hollow against this reality.
The op-ed then challenges Harvard and said the school should reflect on how it admits students and how it educates students. The school should disavow its association with the Trump administration through its alumni:
But there is little downside to Harvard publicly assuring its community members that it is not proud to have produced a large part of this indefensible regime. Harvard is already under attack from the Trump administration in both courts of law and the court of public opinion. Publicly acknowledging its role in empowering this collective of bad actors could lead to much needed community reflection on ethical principles and standards across University curricula.
He wants the school to ask itself who it is "admitting and what are they not learning here?"
MORE: Harvard student paper editors: Trump supporters endorse 'white supremacy'
IMAGE: Guardian News/YouTube
Like The College Fix on Facebook / Follow us on Twitter