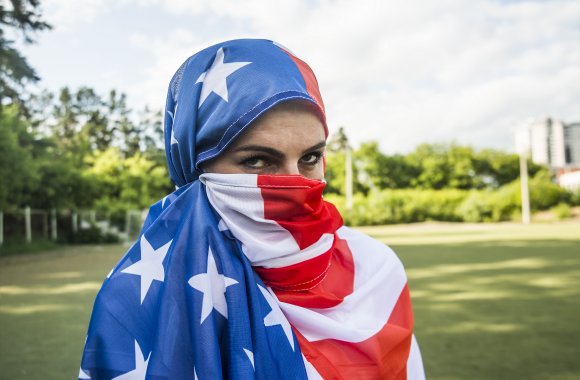 The Daily Bruin's Claire Fahy says she is a big Michael Phelps fan. And why not? He's won more Olympic medals than anyone in history. His athletic feats are prodigious.
But this doesn't mean he should have carried the American flag into the stadium in Rio De Janeiro's Friday night Olympic opening ceremonies. That honor, according to Fahy, should have gone to fencer Ibtihaj Muhammad.
Because she's a Muslim.
"Muhammad is in Rio preparing to be the first-ever American Olympian to compete while wearing a hijab," Fahy writes. "In the run-up to the Olympics, Muhammad had to endure not only the grueling training that all Olympians go through but also the xenophobic and racist insults Muslims in the U.S. have been subjected to while Donald Trump has run for President.
"That kind of perseverance deserves to be rewarded."
The Olympics are based around national pride and in a dangerously nationalistic pride of a different variety, I think it would have been momentous to honor Muhammad not just as an American, not just as an athlete, but as a symbol of everything the U.S. claims to be.

The Games are "supposed to be" devoid of political statements, but they never have been. The entire USA boycotted 1980. Members of USA Track and Field protested the lack of human rights in America during the 1968 Games. Even this year, members of the women's soccer team threatened to forgo the Olympics in the fight for equal pay.

Athletes have always found ways – through accessorizing their uniforms, accepting their medals in a certain way, or speaking their minds at press conferences – to use the Olympic stage as a way to amplify particular messages.
Fahy's not even being original. She's echoing the sentiments of CNN contributor W. Kamau Bell from last Thursday in which he said Muhammad carrying the American flag "[…] would be a symbol for our country in this moment when we are mostly known for one of the most contentious, controversial, scandal-ridden, hateful, xenophobic, jingoistic, and just generally unlikeable presidential elections in recent memory."
Lest you think Bell is playing it more "down the middle" politically than Fahy by saying "presidential elections," wait for it:
"[…] right now America has enough tall, successful, rich white guys hogging the spotlight trying to make America great … again."
If Ms. Fahy likes getting all political this Olympic season, maybe her next column can ponder why members of the Lebanese Olympic team refused to allow members of the Israeli team to share a bus en route to the opening ceremonies. Then again …
Read the full Daily Bruin op-ed.
Like The College Fix on Facebook / Follow us on Twitter
IMAGE: Shutterstock