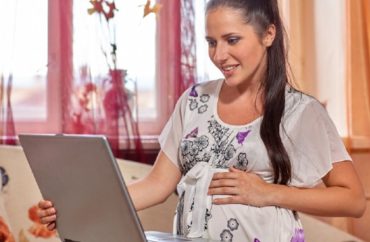 The socialist student also laments women being 'forced' to leave the workplace
Indiana University senior Jared Quigg has previously said people should read Karl Marx, but maybe he needs to read Jonathan Swift himself.
Quigg's Mother's Day themed opinion piece in the student newspaper argued that the "responsible" thing for pregnant women in poverty to do is to have an abortion.
The socialist student said this is the right thing to do given problems in the cost of delivering a baby and maternal mortality rates.
Due to some states protecting babies from legalized killing, many women have motherhood "forced" on them, Quigg claimed.
He wrote in the Indiana Daily Student:
The reactionaries love moaning about "individual responsibility" – is it not the responsible thing [for] a poor mother to have an abortion if she wants one, rather than bankrupt herself and her children? Conservatives would deny a woman's right to be responsible.

Now motherhood for many is an act borne of coercion, not love, and can lead to financial ruin.
Unlike conservatives, Quigg and his comrades don't "hate mothers." That's why he said "motherhood should not be forced upon anyone. The total disempowerment of anyone who would seek to ban abortion should be our first aim."
He gets to this pro-abortion view by using common talking points I have heard in my own pro-life work and activism, such as referencing the maternal mortality rate.
Now as someone with a pregnant wife and a reasonable person in general, I am of course concerned about women dying from childbirth. But let us put the numbers in perspective – not that killing babies could ever truly be justified.
CNN reports that the maternal mortality rate "was 32.9 deaths per 100,000 live births, compared with rates of 20.1 in 2019 and 23.8 in 2020." Note that it went up despite Obamacare's ongoing and massive government interventions in healthcare that Quigg desires. This means though that a woman who is pregnant has a .03 percent chance of dying.
It does not even mean during labor and delivery – different agencies and groups use a six-week to one-year postpartum data range. It also includes substance abuse or suicide that medical professionals tie to postpartum or being post-abortive.
Quigg also says women need abortion and socialized medicine because they are harmed in making less money. "And if you survive? Good luck paying for it all," he wrote. "As if things couldn't get any worse for American mothers, research has shown that being a mother can reduce a woman's earnings. This could be for a variety of possible reasons, one being that mothers are often forced into part-time jobs in order to have time to take care of their kids."
Is it being "forced" if a woman's husband asks her to stay at home to help with kids?
Also isn't Quigg a Communist/socialist? Shouldn't he be celebrating women being freed from participating in the capitalism machine he decries? Why are liberals so intent on having women work in the capitalism system?
He said he will not be buying flowers this year, which must be hard for his mom. "So, America, maybe you can skip the flowers this Mother's Day," Quigg wrote. "Our mothers don't need flowers, they need liberation. America must learn that mothers are above all human beings and should treat them accordingly."
"There's no better Mother's Day gift than human dignity," he wrote.
Guess what?
Preborn babies, like preborn moms, are also "human beings" who have "human dignity."
MORE: New York governor signs law to help students abort 'unwanted' babies
IMAGE: Dmitry Melnikov/Shutterstock
Like The College Fix on Facebook / Follow us on Twitter