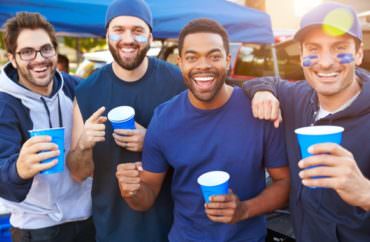 If it's fall in Mississippi, it's football season. That means it's time to tailgate: an opportunity to grill food, drink beer and spend time with friends before the big game. And apparently an opportunity to increase racial tensions too, according to a University of Mississippi student.
In an op-ed published in The Daily Mississippian, Ole Miss senior Francisco Hernandez bemoans that tailgates at his university are perpetuating racial oppression because of the presence of the Mississippi state flag.
Reflecting on the university's recent home opener, Hernandez says that Ole Miss's tailgating area, famously known as The Grove, is a hostile environment because the state's flag includes the Confederate battle cross. The flag, Hernandez argues, risks turning the tailgate area "into a giant, live-action Confederate monument."
From the op-ed:
Saturday, what was supposed to be a celebration of college football became an ideal environment for racial tensions. The cause, of course, was the uncomfortable and divisive presence of the Mississippi state flag all over our tailgating grounds.

Stickers, flags of every size imaginable and even capes (yes, capes) displayed this symbol throughout the Grove. An astoundingly large number of people of all ages also carried the flag, in what appeared to be a statement against the most recent calls to replace the official symbol of this state.
Predictably, Hernandez invokes the recent fiery white nationalist rally in Charlottesville, Virginia, into his opinion piece, writing that the violent events there made more Americans aware about the perils of Confederate relics and monuments:
After the violent events in Charlottesville, Virginia, it seemed like America was starting to realize what had previously been clear to many historians and African-Americans: Confederate symbols in the public sphere are part of a strategy of racial terror. Still, many Ole Miss tailgaters showed little willingness to accept that.

Other tailgaters, who just expected to enjoy their day and root for their football team, observed masses of people proudly and carelessly waving a symbol of racial oppression.
Hernandez, who is from Spain, admits that banning the flag from tailgates would be a difficult task and notes that "scenes of white tailgaters carrying flags and welcoming black tailgaters into their tents were common."
Even so, he claims the tailgate "environment was way less welcoming to minorities than a regular day on our diverse campus." He says the tradition of wearing nice clothes to Ole Miss tailgates also makes the tailgates biased against minorities.
"Besides the flags, extravagant dress code expectations and the exclusiveness of many tents serve to keep minorities away," Hernandez wrote.
As for the flag, Hernandez urges the Ole Miss administration to condemn it.
"Immediate action is necessary to avoid what many believe is the best game day in America turning into a giant, live-action Confederate monument," he says.
And if the university doesn't act, Hernandez suggests a boycott is in order.
"Nothing is stopping the university from condemning the display of the state flag during game day with the strongest possible words. I encourage any conscious minds to abstain from tailgating until, at the very least, such action takes place," he concluded.
MORE: Professors with Confederate names mock ESPN decision to ban Robert Lee from game
Like The College Fix on Facebook / Follow us on Twitter
IMAGES: Shutterstock