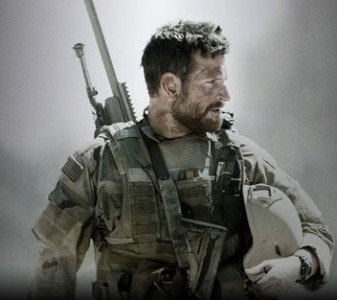 Campus newspaper: 'The protesters filed onto the stage under the screen and held up two signs. One read, "Is this your idea of dialogue," and the other one had the definition of propaganda.'
While the University of Michigan had a peaceful showing of "American Sniper" at its campus Friday night, the same could not be said for another Michigan university.
A group of students stormed an 8 p.m. Friday showing of the blockbuster on the Eastern Michigan University campus, disrupting the showing with signs and questions to the audience, several Michigan news outlets report.
The protest ultimately led to a second showing of the film slated for later that evening to be postponed. About 40 students protested the film, and four protesters were detained by police, according to reports.
MLive.com reports:
The EMU Police Department received complaints for subjects causing a disturbance and refusing to leave at about 8:10 p.m. at the Student Center, according to their police log.

About 40 students protested the film, according to a report by the university newspaper, The Eastern Echo.

The Echo reported that student protesters filed onto the stage and held up signs under the screen, before one student began speaking to the crowd.

"Do you want me to play a movie painting your people this way?" the student asked the audience, according to The Eastern Echo.

Audience members reportedly shouted back, "Tell us after."

[EMU spokesman Geoff] Larcom said the protesters received several warnings from police before the four were detained.

They were released shortly after with no charges, he said. The movie continued, but the second showing was ultimately postponed because of the delay in the first showing, Larcom said.
The Echo notes that during the demonstration, "protesters filed onto the stage under the screen and held up two signs. One read, 'Is this your idea of dialogue,' and the other one had the definition of propaganda."
The student newspaper also interviewed moviegoers who were upset by the disruption:
Junior Kayla Harris, education major, was watching the movie when the protest started. She said her family is Muslim and she is supportive of the Muslim community. She said the way the protesters were going about sharing their message was negative.

"You can't force your opinion down someone's throat," she said. "I don't think people watching this movie are thinking negatively about Muslims – they just want to watch a movie."

Freshman Briona Hagadorn, nursing student, was also watching the movie. She said she wanted to watch the movie to form her own opinion on it.

"I honestly think that what they're doing is good," Hagadorn said. "I am for 'Muslim Lives Matter.' All lives matter. I'm definitely for that. I saw on Yik Yak before I came that a lot of people where upset about this movie. I've never seen this movie so I came to see what this movie was about."
Like The College Fix on Facebook / Follow us on Twitter