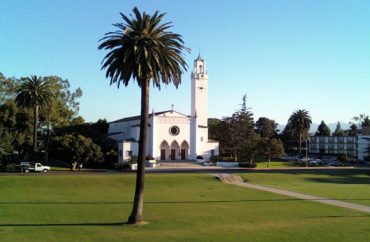 Loyola Marymount student said she will not back down
Left-leaning students at a private Los Angeles based university are calling for the impeachment of a newly elected student government senator after discovering she supports strict policies on immigration.
Stephanie Martinez was elected to the Loyola Marymount University student government as a "senator for diversity and inclusion" in early April after running an unopposed campaign, according to an independent student publication The Agency.
The Agency unearthed a number of tweets from Martinez that expressed support for President Donald Trump and hardline immigration policies such as the "safe third country" policy. She also said that a friend of hers worked for ICE in another tweet.
Kara Zupkus of Young America's Foundation reported that a Change.org petition calling for Martinez's impeachment has garnered over 230 signatures.
NEW: Leftists at Loyola Marymount University are demanding a student senator's impeachment after discovering she is a conservative. https://t.co/yleZojFgOM

— YAF (@yaf) May 6, 2020
"These tweets used derogatory and dehumanizing language about immigrants, supported detention centers and also threatened to call ICE in her tweets- this is a serious offense as we have undocumented students on campus," the petition states.
Martinez told YAF that she had no plans to resign and "to resign would only mean that I am giving up my identity and my ideals or that I don't believe them enough to fight."
From the YAF report:
She went on to add that the central reason she is being targeted is for her support of the president on a very liberal campus. "It is despicable how a student-run 'news source' is allowed to demoralize people with opposing viewpoints and distort those viewpoints to their own convenience."

How ironic that these so-called "diversity and inclusion" activists can't handle hearing an opposing viewpoint. It's not inclusive to shut down and demand removal of one of the only conservative voices in the student body senate, simply for holding conservative views. Martinez did not use "dehumanizing" language about immigrants– she simply took a bold stand for the common sense enforcement of America's laws. Martinez would be an important, diverse voice in a sea of liberalism at LMU and leftists should be on notice that "diversity and inclusion" can't and won't only work when it's convenient for them.
Loyola Marymount did not immediately respond to The College Fix's request for comment Wednesday.
Read the YAF and Agency articles.
MORE: He organized a memorial to 'victims of illegal immigration.' He was impeached for it.
IMAGE: Mishigaki / WMC
Like The College Fix on Facebook / Follow us on Twitter