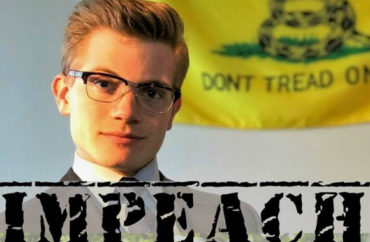 It's 'discriminatory' to note undocumented immigrants have killed people
If you're going to impeach a student government official, perhaps highlight his alleged administrative failures and leave out his politics.
The University of Illinois Student Senate voted to impeach the chair of its Committee of Diversity and Inclusion in part because of his political activities with the pro-capitalism student group Turning Point USA.
Those include setting up a "wall" on the quad last month to highlight the "victims of illegal immigration." Andrew Minik, president of the campus chapter, told The News-Gazette that his group wanted to "call attention to the pitfalls of this broken system."
Minik's participation in this "clearly discriminatory event," while chairing the diversity committee, proves that he has failed to "maintain a respectful decorum" or "a welcome environment" for any student or other person, according to articles of impeachment published by Campus Reform.
It alsot shows he has not "worked consistently for the betterment" of the senate or "campus as a whole," the articles continue, clearly communicating that the senate will not tolerate certain political views:
This event runs counter to the values of Diversity and Inclusion [sic] this organization and the University of Illinois have committed to. Its intent is to create a false equivalence, placing the blames of individual crimes on the shoulders of all undocumented immigrants.
Minik's fellow senators accused him of helping "seed anti-immigrant resentment" at UI. One newly elected official even implied that Minik "uses his status as part of a minority group to attack other minorities," a question that Minik called "completely inappropriate," according to Campus Reform.
MORE: College Republicans reported for 'bias' for painting 'build the wall'
The articles of impeachment also accuse Minik of administrative failures including failing to "distribute packets" or "notify the cancellation of committees" multiple times.
The TPUSA chapter accused the student government last week of "consistently" showing that "diverse opinions and backgrounds are unwelcome" in its ranks:
Andrew exercised his freedom of expression through fearless leadership of the chapter. His impeachment sets the precedent that conservative and libertarian students are not welcome in ISG.
Politically active students who fall anywhere but the left are vilified and punished for expressing their opinions. This group of individuals represents no collective interest but their own – "the voice of the student body" is ignored.
Read the story and follow the TPUSA chapter.
MORE: Senate Dems demand federal ban on saying 'build a wall' in school
IMAGE: Turning Point USA at University of Illinois at Urbana-Champaign/Facebook
Like The College Fix on Facebook / Follow us on Twitter