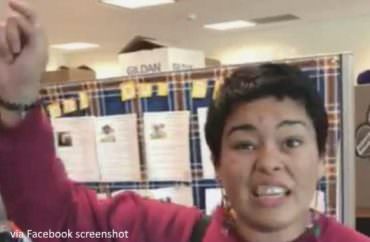 A UC Riverside student who stole a peer's Make America Great Again hat off his head and refused to give it back now faces steep legal consequences.
A criminal complaint provided to The College Fix by the Riverside County District Attorney's Office states that Edith Macias has been charged with one misdemeanor count of grand theft for the September 27 incident.
The next court date on the matter is slated for March, and the maximum penalty Macias faces if convicted as currently charged is one year in county jail, a spokesman for the DA's office told The Fix.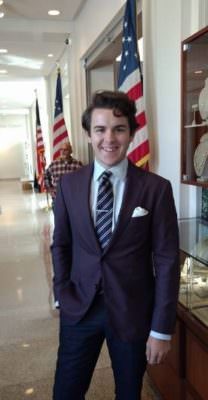 The charge was filed after UC Riverside student Matthew Vitale, the student who had his Make America Great Again hat stolen from off his head, decided to press criminal theft charges against Macias.
According to the declaration in support of an arrest warrant, Macias told the officer who responded to the incident that the reason she swiped the hat was because it represented "genocide of a bunch of people."
"She stated she wanted to burn the hat because of what it represented," it states.
In a now-viral video of the incident, Macias stormed into a student services office with the hat and declared: "UCR is letting people wear this shit on campus? Make American Great Again, really? There were lynchings and genocide and mass deportations. … I fucking hate this country. … And I am not leaving. … We need to get rid of all ya'll."
After Vitale demanded his hat back she replied: "Fuck your freedom of speech boy, your freedom of speech is literally killing a lot of people out there, your hats like these that promote laws and legislation that literally kill and murder people of color," she continued.
In a statement to The College Fix on Monday, Vitale said he is gratified by the developments.
"I'm very pleased that the DA decided to charge her, especially because I am skeptical that UCR student conduct did anything. I will be following up with the student conduct office to determine if anything was done," Vitale said.
"In the meantime, I can't thank UCPD enough for actually taking this matter seriously. The detective and officers involved with this case were the epitome of professionalism," he added. "If, as I suspect, UCR decided not to discipline her in some way this decision by the DA's office shows two things: First, that UCR does not protect and shows no respect for speech that does not conform to their ideology. Second, that in this case UCR chose not to discipline a person who committed a crime on campus against another student."
A video of Macias grabbing the hat off Vitale's head was posted on Facebook by Macias, who stated in her self-titled "#Snatchahat" post: "'Make America Great Again' coded 'Continue the Genocide of POC'. You feel safe cuz you got the cops and politicians on your side. Youre not safe… just saying. We need to make racists scared." (The video has since been taken down.)
After Vitale had requested charges be brought against Macias, he explained his motives to The College Fix: "I do want to send a message. I am not vindictive, I am not vengeful, but people especially in my generation need to realize you can't do things like this because you don't like what someone is saying or wearing."
Editor's note: The charge is a violation of penal code section 487 subdivision c. 
MORE: Student swipes peer's MAGA hat, says 'f*ck your freedom of speech, boy'
MORE: Student whose MAGA hat stolen presses charges; thief's peers demand school protect her, pay her rent
Like The College Fix on Facebook / Follow us on Twitter