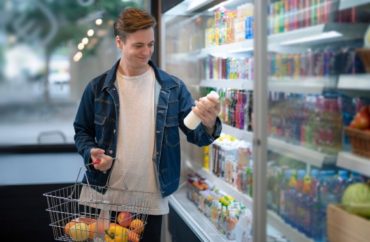 School cannot 'compel' a pro-dairy view, law professor said
A California teenager who claimed she was barred from sharing plant milk literature without also praising dairy is suing her Los Angeles school district.
When the 17-year-old passed out materials promoting dairy-free milk at her high school, she said, administrators told her that she couldn't do it unless she also advocated for the cow-based variety, the Washington Post reported Friday.
Marielle Williamson sued the school district and the U.S. Department of Agriculture, which supervises federal school meals policy, arguing they violated her First Amendment rights.
"By compelling Marielle to simultaneously distribute the dairy misinformation that she seeks to refute, District Defendants have violated Marielle's free speech rights," her lawyers argued in the suit filed May 2 in District Court with the nonprofit Physicians Committee for Responsible Medicine as a co-plaintiff, according to the Post.
"More than that, [the defendants] have laid bare the extent to which [USDA] treats dairy as sacrosanct, both as a matter of law and policy," the suit stated.
Williamson's refusal is part of a growing trend, according to the Post. Forty-two percent of American households bought plant milk in 2021, and animal milk sales declined from 2019-2022.
Williamson told the paper she was "shocked" when her school told her she'd need to request a doctor's note to get a plant-based beverage instead of dairy with her lunch.
Williamson "eats a primarily vegetarian diet," the paper reported.
First, she gave out oat milk samples to classmates to boost alternatives. Then she tried to launch a "day of action" on the strengths of non-dairy milk. The administration conceded but told her she had to include cow's milk info, too.
"Critics have long decried USDA guidelines requiring milk to be served with public school lunches," according to the Washington Post. "The USDA reimburses schools for every meal served, and cow's milk is included. Lactose-free and nondairy options are sometimes offered, but typically are more expensive and an added cost that would have to come out of schools' budgets."
Seven percent of U.S. liquid dairy milk is consumed in schools, Matt Herrick, senior vice president of the International Dairy Foods Association, told the Post.
The USDA dictates schools "must not directly or indirectly restrict the sale or marketing of fluid milk at any time or in any place on school premises or at any school-sponsored event," according to the Post.
Nonetheless, "students have a right to speak in favor of dairy or against dairy," First Amendment law professor Eugene Volokh told the paper. "The school cannot constitutionally restrict that or compel some viewpoint."
The Supreme Court has upheld the First Amendment rights of students in U.S. public schools, the UCLA professor said.
MORE: Law professor Eugene Volokh sues to stop New York regulation of 'hateful conduct' speech
IMAGE: Anek Soowannaphoom / Shutterstock
Like The College Fix on Facebook / Follow us on Twitter