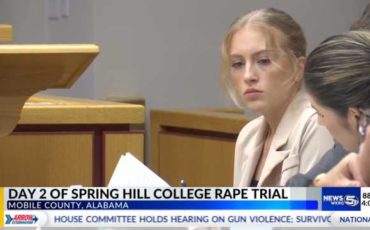 Her alleged assailant has been cleared of criminal charges 
A former Spring Hill College student sued the university for what she contends is its "reckless failure to provide security," which allegedly "directly caused" her "rape and sodomy" by a fellow student.
Audrey Cox's federal civil lawsuit, still pending as of June 22, accused the Catholic college in Alabama of not protecting her and other students in the residence halls.
The lawsuit names Spring Hill College as well as former foreign student Vassil Kokali, the alleged assailant, and several college employees as defendants.
A jury on June 16 found Kokali not guilty of all criminal charges, according to WKRG. Kokali had faced charges of first-degree rape, first-degree sodomy and first-degree burglary.
That does not end Cox's federal civil lawsuit, however. In that lawsuit, Cox (pictured) alleges the school's lax commitment to security is largely to blame for her alleged assault in March 2021.
The lawsuit alleged the school failed to provide essential security on a number of fronts: by failing to maintain working locks on the exterior doors of Cox's dorm, by neglecting to ensure that unauthorized people did not have access to the building, by violating its own security protocols, and by a demonstrated indifference to "numerous" prior alleged sexual assaults.
In response to claims of neglect, Fletcher Devery, a security officer for the school, told The College Fix in an email that students often destroy recently fixed amenities, making maintenance difficult.
"From my experience doors would get fixed only for students to break them the very same day. Specifically in high traffic dorms mag locks would be ripped apart or other locking mechanisms would be tampered with," Devery said.
"In spite of reporting the lights that were out on campus very few were repaired," Devery said. "That being said in some cases, specifically around dorms, students would break recently repaired lights."
The suit also specifically accused the college of facilitating inappropriate and illegal use of alcohol. College safety officers allegedly provided students with alcohol at a party where Cox was in attendance and "otherwise participated in the festivities with underage students attending Spring Hill."
However, Cox's alleged assault did not happen at or following a party involving safety officers.
The lawsuit alleges Kokali was able to enter Cox's room because the friend who brought her home had tried unsuccessfully to lock it from the outside. "Upon leaving the room, Plaintiff's friend securely closed the door to her dorm room, but did not lock it because he was unable to do so from outside," the lawsuit alleged.
Cox withdrew from the college and currently lives in Tennessee. Though distanced from the school, she came forward publicly this spring to file her suit and confront the accused as well as sue Spring Hill officials.
The end goal of the lawsuit is a 'restoration of dignity,' Cox's lawyer said
Ken Abbarno, Cox's attorney, said that his client has been "retraumatized" by every step of the lawsuit's process, according to NBC 15.
"Aubrey has really had a difficult time trying to work her way through what happened," he said.
The Fix called and emailed Abbarno's firm, DLG for Me, to ask for a comment on this case, but has not received a response.
The end goal of this lawsuit, Abbarno told NBC 15, is change, a restoration of dignity, and financial damages.
"Spring Hill preaches accepting responsibility to others," he said. "We want them to accept responsibility for themselves here."
Meanwhile, Cox faces criminal charges of her own. Cox went on what Megan Doggett, an attorney who defended Kokali against criminal rape charges, called a "social media rampage," in which she mentioned many people by name who are remotely associated with Vassil, according to Fox 10 News.
Cox is scheduled to be arraigned for two misdemeanor harassing communications charges on July 20 in Mobile Municipal Court. She is set to be arraigned on those charges in Mobile Municipal Court on July 20, Fox 10 reported.
"Spring Hill College is committed to providing students with a safe environment that is conducive to personal growth and learning," the college wrote in a statement to NBC in April.
"The safety of our students is of the utmost importance. We have in place a number of initiatives to prevent and address sexual assault, domestic violence, dating violence, and stalking. We plan to review this litigation and address it through the legal process."
MORE: Ex-college president sentenced for sex crimes
IMAGE: WKRG/YouTube
Like The College Fix on Facebook / Follow us on Twitter