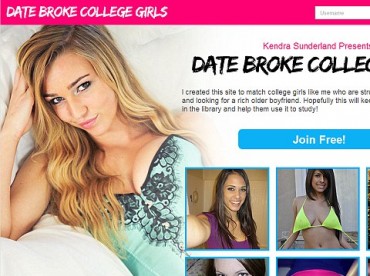 Kendra Sutherland made herself Internet-famous by pleasuring herself on video in the Oregon State University library last fall. Her video went viral on a popular porn site, but she was charged with public indecency.
The 19-year-old, who recently dropped out of OSU, has now launched a website to help "broke college girls" (no relation to the CBS show) pay for their school, Coed.com reports. Guess what it involves?
The point is similar to the site Seeking Arrangement – for hot, debt-drowning college students to get things paid for by generous, wealthy suitors. Sunderland explains, "I wanted to create a place online where young women can feel empowered, and meet successful individuals that can help them during a very stressful and challenging time…I'm personally a member of the sugar dating community, and have seen the benefits these relationships provide a young woman firsthand. Everyone benefits from having a mentor that can help you navigate challenges, especially ones they've overcome themselves – like managing student debts and starting a career."
"Mentor" – that does sound empowering.
She's already practiced her sugaring (the other kind) with a pizza delivery man, which suggests she's seen UltraViolet's sexual-consent video.
Showing the importance of the Greek community to budding porn stars, according to the Daily Mail, Sutherland said her viral fame was followed by "a barrage of friend requests from 'frat boys,' and then, after checking the gossip app YikYak, [she] learned that everyone was talking about the 'library girl.'"
Having made $700 "in about an hour" for the library video, which was shown on MyFreeCams, Sutherland has "just completed her first professional photo shoot," the Daily Mail said.
Read the Coed.com and Daily Mail articles.
Like The College Fix on Facebook / Follow us on Twitter
IMAGE: DateBrokeCollegeGirls.com