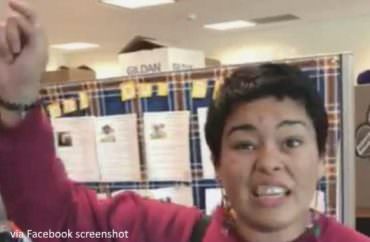 UC Riverside student Matthew Vitale, who had his Make America Great Again hat taken from him by a fellow student, has decided to press criminal theft charges against her, he told The College Fix in an interview Monday.
Meanwhile, peers of the young Latina woman who swiped the hat, Edith Macias, have rallied to her defense, demanding the university protect her from any charges and even pay her rent in a "solidarity" document released Oct. 1.
At issue is an incident last week in which Macias took the bright red MAGA hat right off Vitale's head during a campus event, an incident that was recorded.
That video was posted on Facebook by Macias, who states in her post: "'Make America Great Again' coded 'Continue the Genocide of POC'. You feel safe cuz you got the cops and politicians on your side. Youre not safe… just saying. We need to make racists scared."
Vitale ran after her, demanding his hat back, another incident that was recorded. In this case, Vitale was behind the camera as he exchanged words with Macias. She took the hat to the student life office and demand he not be allowed to wear it. That nine-minute video was viewed some 4.5 million times before it mysteriously disappeared off Facebook, Vitale said. (He has since reposted it).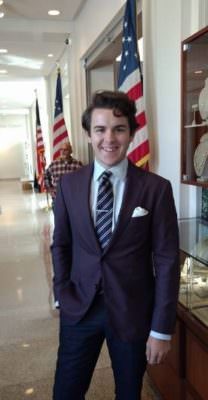 Vitale told The College Fix that at first he declined to press charges because he was told it was only a misdemeanor and he did not want to burden the courts with a minor infraction.
But the "#Snatch a hat" video posted to Macias' Facebook page, which films her grabbing his hat off his head, shows she took it off his person. That rises to the level of a felony theft charge, he said he was told by campus police.
With that, Vitale said he decided to take a stand.
"I do want to send a message," Vitale said. "I am not vindictive, I am not vengeful, but people especially in my generation need to realize you can't do things like this because you don't like what someone is saying or wearing."
"Free speech is under attack on campus," added Vitale, a leader within the school's College Republicans. "As cliche as it sounds, the facts of our laws and our Constitution … don't care about what you feel. For millennials everywhere who believe their feelings give them the right to step on the rights of others — you are sadly misguided. That is not the real world."
A UC Riverside spokesman did not respond to a request for comment from The College Fix on Monday about the status of the police investigation or the solidarity statement, which called the MAGA hat "a symbol that has come to be associated with a violently anti-immigrant, white supremacist regime."
The "Statement of Solidarity with Edith Macias" circulating within the campus community states in part that UC administration should "pay for alternate housing accommodations for Macias and their family while simultaneously covering their current housing costs in order to keep them safe from threats of harm."
The demand cites Vitale's viral video, saying Macias has been doxxed and threatened as a result. It also calls for administrators to "grant Macias amnesty and protection from any student or legal charges."
It also seeks a statement against "white supremacist violence" and one in support of sanctuary campuses from campus leaders.
After Vitale's video went viral, drawing the nation's attention to the incident at the public university in Southern California, campus leaders sent an email that weighed in on the issue without mentioning it specifically.
"Coequal to our dedication to mutual respect is our commitment to free speech and the free exchange of ideas," the message stated. "A university requires an environment where students and scholars can freely express ideas and pursue knowledge, while also promoting respectful dialogue among individuals or groups with opposing viewpoints."
Vitale, 20, an economics major set to graduate next year, said he was a little disappointed with the statement.
"UCR affirms its dedication to free speech, but [adds] free speech has to come under our shared values of mutual respect, which is not freedom of speech," Vitale said. "The whole point of freedom of speech is to ensure the right to say things reprehensible or mean."
"I don't think the MAGA hat is any of those things," he said. "… But if we don't protect controversial speech, that is the moment when we lose our liberty."
MORE: VIDEO — Student swipes peer's MAGA hat, says 'f*ck your freedom of speech, boy'
Like The College Fix on Facebook / Follow us on Twitter