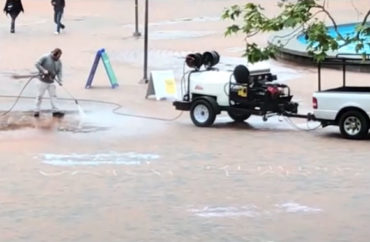 We'll have a word with you if it's 'triggering'
Western Washington University assured a campus pro-life group that it's free to chalk messages on campus – as long as they don't constitute "hate speech."
The confusing message from a campus official, which included a reference to "triggering" chalkings, followed the vandalism of Students for Life's scrawled messages in Red Square earlier this month.
Students and maintenance employees washed away the chalkings, which included messages such as "Pregnant? Need help?" and "Love them both," on two separate occasions less than a day apart, Students for Life of America said Wedneesday.
The university did not respond to College Fix email and phone queries Thursday about its knowledge of the students who first erased the chalkings, why it directed university staff to erase them later, whether the chalking violates the Student Conduct Code, how much it knew about the content of the chalking, how it responds to complaints about chalking in general, and how its action squares with the First Amendment.
Though SFLA told The Fix it gave its video footage to campus police several days ago, campus police told The Fix they could not find any standing investigation within the last month regarding pro-life chalk messages.
MORE: Prof who told class to erase pro-life chalking pays $17K to settle
'Might hurt someone's feelings'
Karlie Lodjic, president of the Students for Life chapter, recorded video of the first incident on June 7 around 7 p.m.
A blonde female in blue overalls told club members that she and other vandals were only going to remove scrawls they considered harmful.
The chalked messages included the website for SFLA's Pregnant on Campus initiative as well as advocacy for adoption and Silent No More, a Christian organization that spreads awareness about abortion and how it impacts both men and women.
They washed the chalk off by covering and filling street cones with water from a nearby fountain. Left untouched, the messages "might hurt someone's feelings," the blonde female said.
A club official, later identified to The Fix as Vice President Molly Sutton, asked if their plan was to erase all the messages. "Just the shitty ones," the blonde female responded.
Sutton asked what was hurtful about the messages so the club could find a way to better reach people. Instead of a direct reply, the blonde female spoke to a nearby student witnessing the event: "They're, like, writing anti-choice shit all over."
Lodjic, the club president, believes the "hurtful" phrases cited by the blonde female "refer to 'adoption not abortion,' 'abortion hurts women,' 'women need love not abortion,' 'abortion stops 3,500 hearts per day,' 'heartbeat at 16 days,' and 'hurting after abortion? Silentnomoreawareness.org,'" SFLA spokesperson Matt Lamb told The Fix in an email.
MORE: Miami University drops trigger-warning requirement to settle suit
Just don't write 'hate speech' on the ground
The club rewrote the messages on the ground later that night, only to catch university employees power-washing the messages away the next morning.
Asked by the club why he was doing it, an employee answered: "I don't know. Provocative, I guess." The university simply directed staff to "take care" of "a lot of chalk graffiti" in the square.
The university apologized to Lodjic in an email but created more confusion about what messages the club is allowed to scrawl by listing undefined terms.
Jennifer Cook, club activities coordinator, said university staff were directed to only remove old chalkings but apparently didn't know the club's chalkings were new. It was a "big miscommunication" and "misinterpretation by the maintenance person," Cook wrote: "[W]e fully support whatever you want to chalk."
MORE: UNM puts trigger warning on pro-life event: 'may be uncomfortable'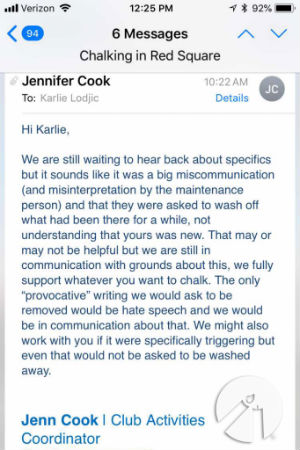 Possibly citing the maintenance employee recorded by the club, Cook continued:
The only "provocative" writing we would ask to be removed would be hate speech and we would be in communication about that. We might also work with you if it were specifically triggering but even that would not be asked to be washed away.
Cook's email didn't cite any specific university policy or provision about hate speech or explain how the university might work with the club if its messages were deemed triggering.
Administrators at other universities have required pro-life clubs to post trigger warnings on their public displays, including the University of New Mexico and Miami University of Ohio.
WWU gets a "yellow light" rating from the Foundation for Individual Rights in Education because the civil-liberties group considers the public university's sexual harassment and gender-based harassment policies "ambiguous" and vulnerable to "administrative abuse and arbitrary application."
Police have the video
The Fix reviewed WWU's Student Conduct Code and found little regarding freedom of speech, expression and protest.
It defines harassment as pervasive or severe conduct that would cause a reasonable person substantial emotional distress and undermine their ability to "work, study, or participate" in their "regular life activities" or university activities.
While the code is silent on free speech, the university addresses the subject on its own website, saying that even discussion of controversial topics is protected by both U.S. and state constitutions.
But this freedom does not cover "specific threats of violence against individuals" or unwarranted invasion of "substantial" privacy. The university may also "choose to make its own statements or invite different viewpoints when facing speech that runs counter to Western's commitment to diversity, inclusion and equity."
MORE: Public college that blocked pro-life student group ditches policies to settle
Responding to the university's muddled message to its Students for Life chapter, SFLA President Kristan Hawkins said on its blog that the chapter "should have the same free-speech rights as any other student group on campus":
The fact that pro-life messages about supporting women who were post-abortive or promoting adoption is considered too controversial by pro-choice students on campus is disheartening and indicative of the bias against pro-lifers in higher education.
"We have turned the footage over to campus police and are waiting to see what they say back before making our next step," SFLA spokesperson Matt Lamb told The Fix in an email.
He later clarified that the group has not filed a formal report with campus police, which usually follow up with SFLA on their own.
MORE: College funds Planned Parenthood rally, shuns pro-lifers
IMAGES: Students for Life of America/YouTube, SFLA
Like The College Fix on Facebook / Follow us on Twitter