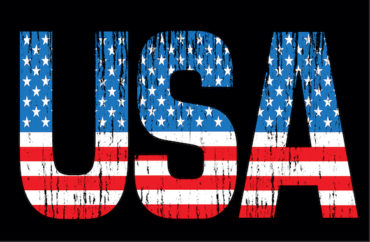 Wore red, white and blue instead of the rainbow
Students at a Massachusetts middle school apparently had had enough of teachers' and administrators' Gay Pride efforts and staged a sort of counter-protest in response.
According to the Daily Mail, Marshall Simonds Middle School students had been asked to wear rainbow-colored shirts on June 2, but instead many wore red, white and blue, chanted "USA are my pronouns" and tore up Pride paraphernalia.
Some parents said their "straight-identifying" kids felt "forced" into Pride endeavors, and were angry at a posted quote from Tennessee Williams (pictured) which said "the human heart is 'curved like a road through the mountains' and only lines and streets can be straight."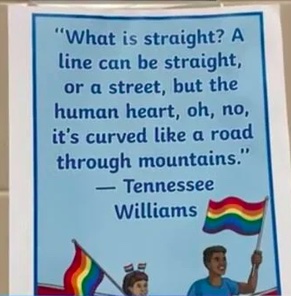 One mom said her daughter told her "You know, mom, that's offensive to me, I am straight."
Burlington Public Schools Superintendent Eric Conti said in a letter addressed to the community that Marshall Simonds MS "experienced intolerance during the school day" on June 2.
"I recognize that discussions and celebrations of individual identity are complex and impacted by individual values, religions, and cultural norms, the result of which may include expressions of racism, anti-religious hate, ableism, and in this case homophobia," Conti wrote. "The Burlington Public Schools are obligated to provide a safe environment for all students to feel safe, seen, and respected without retaliation."
MORE: Teacher rips Muslim students for skipping out on Gay Pride activities
School officials are in panic mode over kids revolting against "Pride Day"

Kids refused to wear colors and some even chanted that their pronouns are USA pic.twitter.com/xuNBlMCrdq

— End Wokeness (@EndWokeness) June 13, 2023
Conti said that "like any spirit day celebration" students could choose to participate or not. "Respectful behavior across the entire student body, however, is non negotiable," he added.
Conti also said it's "not enough" to just denounce incidents like that at Marshall Simonds … that the student protest provided "a unique opportunity to educate [the] community" such as engaging in "uncomfortable conversations."
Marshall Simonds Principal Cari Perchase said "she wanted to 'publicly state that I stand in solidarity and support of the members of the LGBTQ community who were impacted by these events.'"
Some parents are now demanding the reinstatement of the town's DEI — Diversity, Equity and Inclusion — Board which had been disbanded last year. One Burlington town official said he "lost sleep" over the Marshall Simonds incident as it "shocked him to his core."
MORE: Teacher tells class to pledge allegiance to gay pride flag
IMAGES: Milano M/Shutterstock.com; Dr. Braun_Chad, MD/Twitter
Like The College Fix on Facebook / Follow us on Twitter