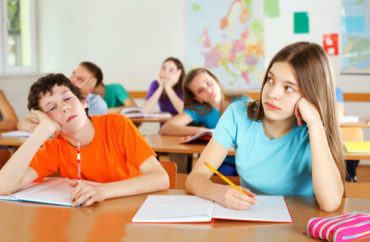 Pandemic's effects force parents to look at blended learning
Students across the United States have lost a large sum of expected academic gains from COVID-19 after campuses were forced to shut down and move online.
Now a new study by Brown University researchers projects statistically significant learning losses coming into the 2020-21 school year due to the disruption.
Researchers used existing findings on issues such as absenteeism, regular summer breaks, and similar school closures (think Hurricane Katrina) to inform their projections of potential learning loss due to the pandemic.
"Based on our projections, students will return in fall 2020 with approximately 63-68% of the learning gains in reading relative to a typical school year and with 37-50% of the learning gains in math," the researchers state, adding in some grades, "students may come back close to a full year behind in math."
"While such projections may reinforce the worst fears of educators and parents, we should note that they do not factor in the home schooling and online instruction that students may currently be receiving. Therefore, they should be viewed as a likely upper bound for the potential negative effects on students' learning," the researchers state.
Professor Seth Gershenson, an expert on education policy analysis, said the study's estimates are "totally reasonable and as good a guess as any."
But it's a complicated topic, said Gershenson, associate professor at the School of Public Affairs at American University, in an email to The College Fix.
On the one hand, he said, "at least some households and schools are doing a decent job of online and homeschooling — this suggests their numbers are overstating the problem or that there are going to be different effects for more and less advantaged students."
But on the flip side, Gershenson noted, "this whole experience has been traumatic — and this impedes learning too. So, this suggests that those estimates might understate the problem."
The study's authors state that "in preparing for fall 2020, educators will likely need to consider ways to support students who are academically behind and further differentiate instruction."
Ultimately the pandemic's effects have also forced parents to look to new ways of educating their kids, such as blended learning. Professor Gershenson said he predicts more "blended learning" is in the offing. Blended learning is a combination of in-person and online education.
The changes in learning "will improve many adults' attitudes towards the benefits of high-quality online education. It will also probably highlight the hard work that teachers do. Together, this might make blended learning more common in the future," he said.
A RealClear Opinion research survey released last month echoes Gershenson's theory that blended learning may be more common in the future, with 40 percent of parents being more likely to transition their children to homeschooling or virtual schooling after the shutdown.
John Schilling, president of the American Federation for Children, commented on the poll saying that "families are seeing the inadequacies of school districts that are too inflexible. We owe it to our nation's families and students to give them more flexibility and additional educational options."
MORE: Students learn more from tough teachers, study finds
IMAGE: Samba / Shutterstock
Like The College Fix on Facebook / Follow us on Twitter