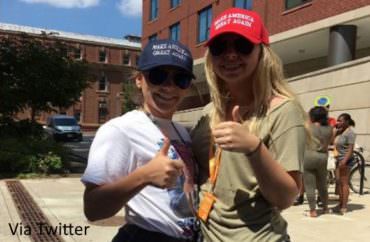 Students at Howard University, a top-rated historically black college in Washington D.C., took to social media to express their anger over a group of white high school girls wearing pro-Trump clothing who visited the campus on Saturday.
Some tweets referring to their visit also suggested the white high school girls should be beaten up.
One of the high school guests, in a social media post of her own, said they were simply visiting the school's cafeteria to get food as part of a larger tour of the nation's capital, and faced a barrage of insults and aggressive acts, including having their hat stolen and being told ''F*** y'all."
"The students took videos and pictures of us saying WE were being 'disrespectful', and that 'us being caucasian, we should have known better,'" according to high school student Allie Vandee on Twitter.
#noshame #MAGA pic.twitter.com/h14x9pAo9x

— al (@allie_vandee) August 19, 2017
The uproar was so heated that Howard University officials also took to Twitter to assure its students the high school visitors had left.
"We will take any action necessary to ensure that HU students feel safe & comfortable in our dining spaces. This group is no longer on campus," the university's dining services tweeted out.
The reactions of Howard students, chronicled by Twitchy, included:
Right here in Annex white people gettin real bold we don't stand w trump

Right here in Annex white people gettin real bold we don't stand w trump pic.twitter.com/zoit7UpC2h

— Brit (@britnianise) August 19, 2017

Howard is a private institution and I've seen folks removed for campus for less. What did campus police do? This is unacceptable

who told these lil yt girls they could come to THE HU like it was about to be some joke
Additional Twitter reactions sympathetic to the Howard students also chimed in with comments such as: "Start swingin," "I genuinely hope they didn't leave unbeat" and "They posted like they ready to get they ass beat."
One of the tweets highlighted by Allie also stated: "tell them to meet you behind south and beat the fuck out of them." Allie's take on the situation ended by saying:
After a lot of hate, our head supervisors decided it would be a good idea to keep the peace and find somewhere else to eat. When we got on the bus, a girl from Central Tech told us to 'remove our hats because we are racist'.

This is America. These are the people who are racist and disrespectful. It's unfortunate that more Trump supporters have to fear going places than others. I will never be embarrassed for supporting Donald Trump. I will always support OUR president when, and wherever, I please.
But Howard University officials, on Twitter, defended the reactions of their students to this tour group. A 10-tweet response from their official account included "Thankfully, when visitors set foot on our campus they are met with some of the brightest and best students in our nation. … Howard students represent all that is right about America."
To which Twitchy responded: "If not letting people get a meal because you don't agree with their shirt is 'all that is right about America,' then we have problems."
But some observers believe the entire affair was more nefarious, such as a writer at The Root, who posited: "Who goes to visit Howard University for lunch? Out of all the places you can go in D.C., heck, out all the places you can go on 14th and Georgia Avenues, why in the hell would you go to Howard's cafeteria, or any college cafeteria, for lunch? I have visited friends, family members and various business partners on Howard's campus and not once have they suggested "let's eat on campus." So I'm immediately calling BS on these blonde-haired academic ingenues' story. They went to Howard, dressed in MAGA hats and Trump shirts to start trouble."
MORE: USC black student group: Mascot horse 'Traveler' is 'white supremacy' because … Robert E. Lee
Like The College Fix on Facebook / Follow us on Twitter