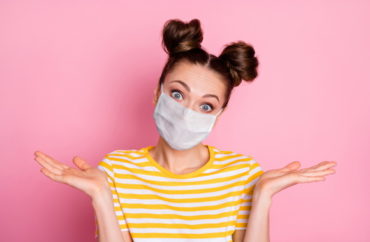 ANALYSIS
College has traditionally been treated as a time for some combination of youthful rebellion, debauchery and self-discovery. Yet, in the age of COVID, most students have come to embrace conditions more akin to those of a psychiatric hospital circa 1962 than the Delta Tau Chi house of Faber College.
According to a study from Axios and Generation Lab, 73 percent of students favor vaccine mandates. Likewise, an online poll by TimelyMD found more than 80 percent of students at universities with mask or vaccine mandates supported these policies, while 70 percent of students at universities without mask mandates said they would still wear one, regardless.
Turning to student newspapers, pieces boasting of student support for the new normal have become commonplace.
In a series of recent articles published by Illinois State University's The Vidette, both faculty and students alike understand the importance of masking, "even in August heat," as the title of one such article proudly assured. Yet even at universities such as ISU, where students understand the importance of masking, keen observers have noticed something.
As one Vidette columnist wrote, "So we wear our masks indoors, but students are still going to bars where masks are not being enforced. Students are still packing the stands for football games with no masks. Students still walk to class in large groups with no masks. Festival ISU and the Sweet Corn Circus had a lot of traffic where lots of people, if not almost all, were not wearing masks."
Furthermore, these students carrying on with their social lives as if it were still 2019, presumably do not know the vaccine status of those around them at every bar, football game, or Sweet Corn Circus they attend.
Yet, rather than acknowledge they can survive the chaos of the Sweet Corn Circus, then question the medical dictates of their administrative conservators, many instead call on their universities to do more to protect them from themselves and each other.
An article in University of Illinois' The Daily Illini covered student concerns that their school did not employ a sufficient number of Wellness Support Associates to stand guard at every door of every building to ensure those entering were approved for access by U of I's Safer Illinois app.
The editorial board at Northern Illinois University's Northern Star expressed disappointment in their university for giving students who had previously received personal exemptions from NIU's vaccine mandate too much time to get vaccinated after NIU revoked those exemptions.
From across the border, roughly 50 students at the University of Iowa looked at their Midwestern brethren with envy as they play-acted their own demise while demanding similar restrictions on their rights.
Over at the University of North Carolina, the Executive Board Officers of the Undergraduate Student Government released a statement calling on UNC to follow in the steps of so many other schools and require vaccination.
It is clear from polling data these examples are not isolated anomalies or the result of selective reporting. The TimelyMD survey found 55 percent of students at schools without mask or vaccine mandates wished their schools would impose them.
Axios and Generation Lab found at least 55 percent of students consider parties and mask-less conversation, among other activities, unsafe, and that 61 percent would like their universities to crack down on parties and large social events.
Although entirely possible the students demanding such restrictions are not the ones socializing at bars with bared noses and exposed mouths, given the statistics, such a strict separation would seem unlikely.
More probable is a scenario in which a considerable number of students truly wish for a safetyist campus utopia, but write their own slips for unaccompanied leave, then feel they need a good strong dean in nurse's clothing to teach them their place when they return.
As for how and why so many students have come to have such little regard for their own freedoms, students interviewed for the previously referenced articles provide some insight.
Many fear they and their peers, even in the prime of life, are at great risk from COVID. They believe masks work. They believe the vaccinated need to be protected from the unvaccinated. They have come to accept low COVID case counts as a necessary condition that needs to be maintained if their college experience is going to have any echo of normalcy.
Yet, although these students may be sincere in their beliefs, these beliefs are largely erroneous.
Those who are young and healthy are generally at low risk from COVID. Prior to the late spring of 2020, there was scant evidence that the casual use of most masks could protect people from a respiratory virus; since then, not much has changed.
No one can really explain the logic of how the unvaccinated pose a threat to the vaccinated -– a challenge that becomes infinitely more difficult if one enters the previously infected into the equation. And, to a large degree, obsessions with case counts and vaccination rates is an infatuation with an arbitrary, bureaucratic metric.
Students not knowing all this, of course, is understandable -– they are young and may often lack the requisite skills to critically assess every questionable claim they encounter. Universities, however, encouraging such erroneous beliefs in their students while structuring their lives around these misconceptions, is of course another matter.
ALERT: Check out our new Campus Cancel Culture Database!
IMAGE: Roman Samborskyi / Shutterstock
Like The College Fix on Facebook / Follow us on Twitter