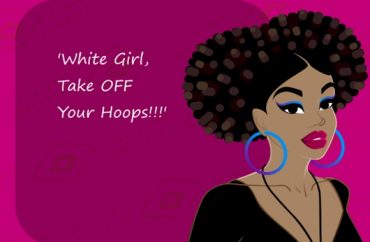 Students of color at Pitzer College have a message for their white peers: Take off your hoop earrings. Literally, that's their message — spray painted on the school's free speech wall recently.
The phrase "White Girl, Take Off Your Hoops" was painted on the wall by a group of students of color who sought to school their white peers in cultural appropriation, reports the Claremont Independent.
In subsequent emails to the campus community, the activist-artists explain that white women who wear hoop earrings basically oppress and exploit Latina and Black women.
One email, republished by the Independent, states in part:
"[T]he art was created by myself and a few other WOC [women of color] after being tired and annoyed with the reoccuring [sic] theme of white women appropriating styles … that belong to the black and brown folks who created the culture. The culture actually comes from a historical background of oppression and exclusion. The black and brown bodies who typically wear hooped earrings, (and other accessories like winged eyeliner, gold name plate necklaces, etc) are typically viewed as ghetto, and are not taken seriously by others in their daily lives. Because of this, I see our winged eyeliner, lined lips, and big hoop earrings serving as symbols [and] as an everyday act of resistance, especially here at the Claremont Colleges. Meanwhile we wonder, why should white girls be able to take part in this culture (wearing hoop earrings just being one case of it) and be seen as cute/aesthetic/ethnic. White people have actually exploited the culture and made it into fashion."
Another email from a fellow student artist added: "If you didn't create the culture as a coping mechanism for marginalization, take off those hoops, if your feminism isn't intersectional take off those hoops …"
Read the full Independent article.
MORE: Pitzer student calls mural of gun shooting flowers 'emotionally triggering' — artist paints over it
Like The College Fix on Facebook / Follow us on Twitter