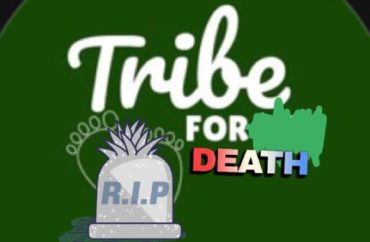 UPDATED
The sole purpose of the William and Mary group is to harass Tribe for Life
A group of pro-choice students at a Virginia university have dedicated time to harassing and bullying their peers according to a national pro-life organization.
The group "Tribe for Death" appears to exist primarily on Instagram. The group is "Pro abortion" and "Anti pregnancy" according to the bio.
The pro-abortion page has 57 followers and 10 posts as of February 16. The page consists of pro-abortion memes that targets both the pro-life movement and Students for Life at the College of William & Mary specifically.
"Hey there tribe for life 😘 DISCLAIMER: this account is 100% a joke aimed only at clowning our campus's anti abortion group," the profile stated. The pro-choice group did not respond to a request for comment on February 16. The College Fix asked what its purpose in starting the group is, if it had any other activities beyond the Instagram page and if it is an approved university club. It did not respond to other inquiries sent in the past month.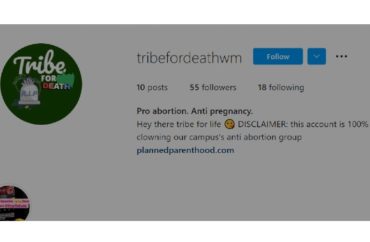 The Instagram page is aimed at Tribe for Life, the campus pro-life organization that is affiliated with the national Students for Life of America.
A representative with SFLA said the campus club has tried to get in contact with Tribe for Death. The pro-life students have not released "an official statement regarding the Tribe for Death account on Instagram, but they have attempted contact through direct messages to the account," Hannah Wolfe told The Fix via email. Wolfe is the regional coordinator for Virginia.
The group contacted the Tribe for Death account "to let them know that their messaging may be potentially harmful to women who have experienced abortion and come across the things they've posted," Wolfe told The Fix. "The group says they are completely pro-woman and want people to always have a safe space to go and feel that the posts made by the Tribe for Death account could hinder women from finding the support that they need."
Tribe for Death's content also includes posts mocking preborn babies and pro-life tactics such as educating people about fetal development. "One particularly disturbing video shows a preborn child as being represented by a spoonful of red jam and then being made into a sandwich for consumption," according to an article from SFLA. "The caption of the post is: 'Hey @tribeforlifewm [the Tribe for Life's Instagram page] do you want a sandwich?'"
"This group has often experienced discrimination and bullying both on campus and online," Wolfe said. She said Tribe for Life is "consistently attempting" to have a discussion about abortion and "find common ground," Wolfe said. "[I]nstead they are met with anger and malice."
MORE: Pro-life students plan renewed focus on helping pregnant and parenting peers
Editor's note: The article has been updated to clarify The Fix reached out multiple times to Tribe for Death.
IMAGE: Tribe for Death/Instagram
Like The College Fix on Facebook / Follow us on Twitter