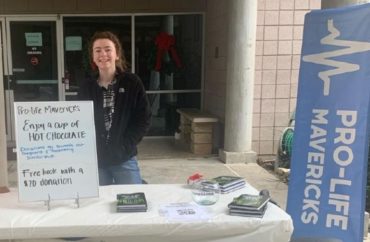 Texas pro-life law has sparked further interest on one campus
Students for Life of America leaders plan to expand efforts to create family-friendly policies on college campuses in the new year.
The College Fix spoke to one student leader in Texas, who said the heartbeat bill has led to further attention on the need to promote help for pregnant and parenting students.
"Texas is in a different kind of environment than a lot of the country… so we're witnessing a shift in really upping the response," to promoting life on campus Brooke Rizuto told The Fix via a phone interview. She is a leader in the Students for Life Group at Dallas Baptist University and interns for SFLA.
Her group has members who are also involved in student government, which facilitates the pro-life club's efforts.
"Getting the word out [in light of the new Texas law]," is vital, Rizuto said. "There are so many resources in 15 to 20 minutes of just our campus," she said.
It takes just a small gesture to show moms and dads they are supported.
"Even if as much as a $100 scholarship, when you talk to women who have gotten that scholarship, [they say] 'that makes a big difference to me because I thought I was on my own,'" Rizuto said.
Because of the logistical problems of setting up an endowed scholarship at a private university, Rizuto's club figured out a quicker way to get support to pregnant students.
Her club bought greeting cards that congratulate pregnant students, offer support and provide a "personalized message" from the pro-life students. "We put gift cards inside [the envelope]" and leave them in the nursing office for students.
She will likely be joined by other pro-life peers in changing the culture on college campuses, if SFLA's concentrated efforts in 2022 are successful.
Webinar hosted to train pro-life activists
SFLA did not wait until January 1 to start its resolution, however. The pro-life national organization hosted a webinar in December to train leaders on implementing pro-family policies.
"You can make your campus more supportive for pregnant and parenting by establishing official policies and student government resolutions," the website said. Suggested policies include parking spaces of pregnant moms, diaper changing stations and childcare on campus.
SFLA plans to utilize its more than 1,250 groups across the country to advocate in 2022 for supportive policies.
"We equip those students as well as school administrators with resources from our Standing With You Initiative," Lauren Enriquez, an SFLA spokesperson, told The Fix via email. The initiative "educates schools on their obligations toward pregnant and parenting students as well as provides them with resources they can help provide to those students to show them the support and accommodation they deserve."
It builds on the work of its previous "Pregnant on Campus" program.
"This initiative was designed entirely to effect positive policy change, resource provision, and the protection of student rights for pregnant and parenting students," Enriquez said.
"We've assisted countless campuses in this regard and one example can be found in our Christian Schools report. Ave Maria University used Standing With You as the framework for its support program, 'Campus Care,'" she told The Fix.
MORE: Student senate condemns pro-life group's display
IMAGE: Brooke Rizuto
Like The College Fix on Facebook / Follow us on Twitter