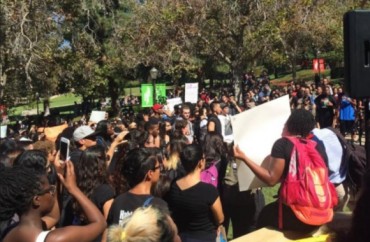 'Kanye Western' blackface? Some argue partygoers just dressed as gold miners
LOS ANGELES – Amid chants of "black Bruins matter" and "for shame," some 400 UCLA students converged Thursday to protest a Kanye West and Kim Kardashian themed frat party the demonstrators dubbed racist.
One speaker related the "Kanye Western" to the killings of Freddie Gray and Michael Brown, while another stated the party was a result of the world being "the white man's." A third suggested the public university is "failing students of color" and called for a "healing space for Black Bruins."
Mixed within several speeches were calls to increase the percentage of black students at UCLA, which stands at about 4 percent.
The protest took issue with a Sigma Phi Epsilon-hosted party Tuesday with a "Kanye Western" theme, prompting some partygoers to dress as the music icon and his famous wife.
Some wore extra padding to increase the size of their butts, and exaggerated their lips, and others wore ornate gold outfits with fur, according to a report and pictures from the party posted by The Daily Bruin campus newspaper, which blurred students' face to prevent identification.
Also as part of the "Kanye Western," some female students dressed as "Gold Diggers" – also the name of one of Kanye's songs. They spotted charcoal on their faces, wore flannels, boots and jeans, and held pans with fake gold, according to a blurred picture posted by the Bruin. Another picture showed two female students who drew goatees on their face while dressed in various iterations of the Kanye theme.
A picture of students in literal blackface paint has yet to surface.
Rumors flew on campus Wednesday that students wore blackface, however, and some students claimed to have seen it as well. A statement put out by the Afrikan Student Union said that the black soot was meant to "resemble the complexion of African American people." A headline in the Los Angeles Times blared: "UCLA students protest after partygoers wear blackface at Kanye West-themed frat party."
But in the Daily Bruin article – which broke the story – it does not report students wore blackface, only noting "photos from the raid also show attendees with their foreheads covered in charcoal."
Some online comments have suggested the claims of blackface are overstated. Some argued the partygoers were just dressed as gold miners.
Regardless, the overall theme, and the appearance of what was perceived as blackface, upset students.
In the primary Facebook statement circulated by the crowd of individuals outraged by the incident, Kelsee Thomas, a UCLA student, stated "everyone keep in mind that simply because I go to one of the top ranked institutions in the country, doesn't mean I'm any farther away from ignorance and racism as anyone else. They just hide it behind frat/sorority themes, anonymous postings, and micro-aggressions."
In her long post, Thomas went on to write that several Afrikan Student Union members approached fraternity members the night of the party, asking for an apology letter. Thomas claims that although one member did apologize for causing offense, he laughed when he was asked to write an apology letter.
At Thursday's rally, students chanted "fifty years and we are still here," and voiced anger that the stuffing of the butt areas, saggy pants, and other costumes were cultural appropriation.
The Vice Chancellor of Diversity, Equity and Inclusion, Jerry Kang, took the microphone and gave a brief speech. He announced that the fraternity and sorority involved is not allowed to have any social events until after the investigation is completed. He called the punishment a "suspension."
"I understand your pain," Kang told the crowd. "I do not want to suggest that even though I view myself fundamentally as a person of color that I understand the pain that you as an African American might be going through. But I want to underscore as an individual first that black Bruins matter."
He told the crowd his office is investigating and "working nonstop behind the scenes" on the matter.
In his few final comments, Kang added that a fraternity event such as the one that occurred might be more acceptable in different circumstances. Specifically, he said if the "bloody events" over the summer had not occurred, or in the future if the percent of black students at the school was "25 percent, 40 percent, or 55 percent," it might have been a more appropriate theme.
Like The College Fix on Facebook / Follow us on Twitter