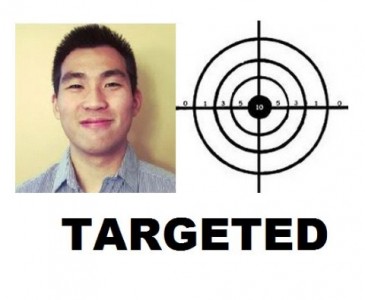 PETITION: 'We do not believe students have a protected right to use a student publication … as a platform to proliferate racist stereotypes and misinformation'
A student at Duke University who has penned columns for the Duke Chronicle that favor conservative and libertarian principles is now the target of a student protest demanding his termination as the campus newspaper's opinion editor in a petition that calls the columnist's views "racist" and "unsafe."
Duke student Jonathan Zhao – a rising senior tapped as the new opinion page editor of the Duke Chronicle – has written columns in the past titled "Gay marriage is not a right," "Equal pay is anti-feminist" and "A farewell to arms control."
Zhao has also held positions with the Romney for President campaign and the libertarian think tank the Cato Institute, according to his LinkedIn page.
While he has often touted positions counter to mainstream politically correct beliefs on campus, the tipping point against Zhao came after he penned a column May 27 titled "The plight of black America" that stated: "The greatest obstacle to the advancement of black Americans isn't racism or past injustices but rather the black community itself." 
Between that and Zhao's appointment as opinion page editor, it was all too much for Duke University's left-leaning students, who savagely smeared Zhao's reputation in a Change.org petition demanding Chronicle editors fire him. The petition is headlined: "We are demanding the immediate removal of Jonathan Zhao as editor of the Duke Chronicle's editorial page."
"[W]e do not believe students have a protected right to use a student publication meant to serve and represent the Duke community as a platform to proliferate racist stereotypes and misinformation about an entire group of people – a group of people to which the writer does not even belong," stated the petition, written by a group calling themselves "Concerned and Conscious Duke Students."
The petitioners do not address Zhao's lengthy "black America" column point by point, but rather attack his character and suggest anyone who believes as he does is unfit to serve as editorial page editor.
"Certainly, that student shouldn't be permitted to oversee one of the most well-read sections of the paper," the petition continued. "Not only was this particular article by Jonathan Zhao abhorrent, but this writer also has a history of publishing inflammatory and ill-conceived pieces in the newspaper."
The petition suggests Zhao is too biased to fairly edit the opinion section.
"We are concerned that if Zhao continues as an editor of the opinion column, he will also continue to abuse his position of power to create an unsafe educational environment for marginalized students," it states. "This is not a question of being 'politically correct,' nor is it a matter of censorship.  Rather, this is a call to hold The Chronicle's staff and the content they produce to a higher standard of journalistic ethics."
As of Sunday, the pseudo-censorship petition had almost 900 signatures, with many signers posting vicious comments about Zhao, calling him a disgrace and accusing him of bigotry.
In an email Saturday to The College Fix, Zhao stated that "unfortunately due to Duke Chronicle policies governing interactions with other news outlets, I am unable to provide you with a statement."
In his column on "black America," Zhao argued that racism and past injustices are not the main things holding the African-American community back from success.
"Instead of paving a road to prosperity, the self-defeating economic policies advocated for by the black community are shackles of poverty and disillusionment, miring blacks in a cycle of underachievement and social immobility," Zhao wrote. "In addition to failed economic policies, there are also cultural issues within the black community such as the erosion of marriage that must be internally overcome. Because the economic and cultural problems are casually interrelated, they must be addressed simultaneously if any real progress for black Americans is to be achieved."
Zhao acknowledged in his column that it would likely rile feathers and concluded by writing, "the black community must embrace societal institutions like marriage and the rule of law and also disavow the mentality of victimhood in favor of an outlook of empowerment. Only having done so can America truly achieve Dr. King's dream of an integrated, colorless society."
Following backlash from that opinion column, the Duke Chronicle released a statement saying "we have changed the policy regarding guest columns to avoid any appearance of bias in the process."
 
The College Fix e-mailed the Duke Chronicle on Sunday for comment on the petition, and Editor-in-Chief Amrith Ramkumar responded with, "Sorry, we won't be commenting on that."
RELATED: Duke University's Muslim Students Association blackballed Islamic feminist's campus speech
RELATED: 'Man Up,' 'Don't Be A Pussy' Labeled Offensive Language at Duke University
RELATED: Duke prof called 'racist' for arguing Asians have integrated better than blacks
College Fix reporter David Hookstead is a student at the University of Wisconsin Madison.
Like The College Fix on Facebook / Follow us on Twitter