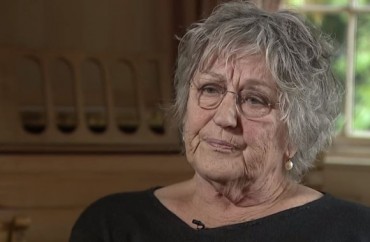 Here we go again.
Another group of fragile, whiny students is in a tizzy over a planned campus speech by someone with whom they disagree. This time it's Australian feminist icon and academic Germaine Greer – described by some as an ultra-liberal and Marxist – whose upcoming speech at the UK-based Cardiff University has prompted a petition that calls on the event to be canceled.
Why? Because Greer agrees with most of mainstream America that just because a man gets a boob job, takes massive amounts of estrogen, and wears make-up and dresses, it does not make him a woman.
But the online petition accuses Greer of "misogynistic views towards trans women."
"Trans-exclusionary views should have no place in feminism or society," the petition adds. "Such attitudes contribute to the high levels of stigma, hatred and violence towards trans people – particularly trans women – both in the UK and across the world. While debate in a university should be encouraged, hosting a speaker with such problematic and hateful views towards marginalised and vulnerable groups is dangerous. Allowing Greer a platform endorses her views, and by extension, the transmisogyny which she continues to perpetuate. Universities should prioritise the voices of the most vulnerable on their campuses, not invite speakers who seek to further marginalise them."
As of Sunday night, the petition had 2,280 signers.
Greer has since defended her views, saying she is "not about to walk on eggshells." And Greer said of Bruce/Kaitlyn Jenner: "He/she wanted the limelight the other female members of the family were enjoying." As for whether she is insulting transgenders, she quipped: "I don't care. People get insulted all the time."
"Apparently people have decided that because I don't think that post-operative transgender men are women, I'm not to be allowed to talk," she said to BBC. "I'm not saying that people should not be allowed to go through that procedure, what I'm saying is it doesn't make them a woman. It happens to be an opinion, it's not a prohibition."
Meanwhile the petition has drawn groans of frustration from some observers who are sick of students demanding controversial speakers be shunned from campuses. Writing in the Daily Mail, Ruth Edwards posits:
Since I read The Female Eunuch in 1970, when the feminist bestseller was published, I've been an irritated admirer of Germaine Greer. Irritated, because she has tiresome political views (a Marxist anarchist Liberal Democrat is hard to warm to), frequently changes her mind but is always sure she is right and can be guilty of sweeping unfairness to whole sections of society, especially men. But there is much more reason to admire Greer, for she has an original mind, challenges her followers with everything she writes and says, is never dull and has tremendous guts.

She infuriated, inspired, energised and helped liberate generations of women and we all owe her a great debt of gratitude. Any Cardiff students with an interest in social history should have been tweeting joyously when they learned that this icon of the feminist struggle would be soon giving a lecture at their university on 'Women & Power: The Lessons of the 20th Century.' Instead, some of them decided their delicate sensibilities should not be assailed by someone who had views of which they disapproved.
But it's unclear if the Nov. 18 speech will occur.
"I'm getting a bit old for all this. I'm 76. I don't want to go down there and be screamed at and have things thrown at me," Greer said to BBC.  "Bugger it. It's not that interesting or rewarding."
Like The College Fix on Facebook / Follow us on Twitter
IMAGE: YouTube screenshot