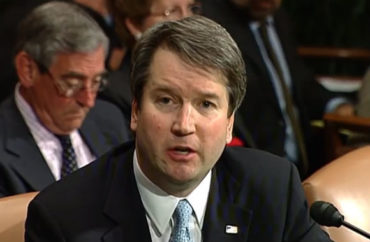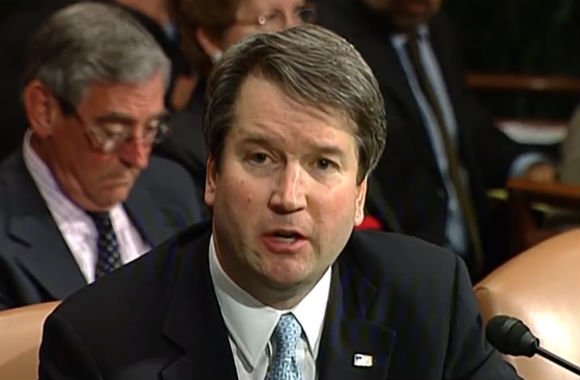 Many George Mason University students — including a "survivors" group and the College Democrats — are demanding that U.S. Supreme Court Justice Brett Kavanaugh be fired from his recently established post as a distinguished visiting law professor.
The protest came swiftly after news recently broke that Kavanaugh was hired in a three-year contract by GMU's Antonin Scalia Law School, and is set to teach a class in England this summer, the Fourth Estate student newspaper reported.
"The class, titled 'Creation of the Constitution,' will be taught by Kavanaugh and law school professor Jennifer Mascott, Kavanaugh's former law clerk," according to the Estate.
The College Fix reached out to Mascott for comment but has yet to hear back. But student reaction has been swift, with some calling for the university to cut ties with the newly minted Supreme Court justice.
A petition created by "Mason 4 Survivors" demands that the university "terminate AND void ALL contracts and affiliation with Brett Kavanaugh at George Mason University." So far nearly 2,000 have signed it.
Using the tagline #CancelKavanaugh, the organization bills itself on Twitter as a "student-led advocacy group in solidarity with survivors, advocating for transparency, and demanding systemic reform at GMU."
The student group claims Kavanaugh's hiring is the latest in a string of incidents that show the university has "failed survivors and the Mason community."
The relatively new student group launched its Twitter account in March 2019. In addition to demanding Kavanaugh be fired, it's calling for the "release any and all documents including but not limited to: emails, donor agreements, and contracts related to the hiring of Brett Kavanaugh as faculty at George Mason University."
Other demands listed on the petition include holding a town hall, issuing of a formal apology from administration to survivors, Title IX policy reform, and for the university to hire an on-campus 24/7 Mason PD Sexual Assault Coordinator.
"Mason 4 Survivors" has ignored multiple requests for comment from The College Fix.
Some professors have piled on the outrage.
The George Mason AAUP chapter, led by Professor Bethany Letiecq, tweeted that the group believes the hire of the Supreme Court justice could have something to do with a recent contribution to the law school.
Another GMU Professor, Ahsan Butt, who teaches in the Schar School of Policy and Government, added on Twitter that he believes GMU thought to themselves, "Let's hire a rapist who repeatedly lied to Congress to teach law."
GMU: we are a serious university, don't you realize we officially became R1?

Also GMU: Let's hire a rapist who repeatedly lied to Congress to teach law https://t.co/jsIsBGry0n

— Ahsan Butt (@ahsanib) March 23, 2019
The College Fix has reached out to the professors but has yet to receive a response.
The College Democrats at GMU released a statement condemning the university's hiring of Justice Kavanaugh, while Kara Kline, president of GMU College Democrats, told The College Fix "the George Mason Democrats support this petition released by Mason for Survivors and fully stand by the list of demands made to the university."
Kline further confirmed to The College Fix that the College Democrats are calling for "the immediate termination of Justice Kavanaugh's contract."
Meanwhile, Mason 4 Survivors has events planned to keep the pressure on campus leaders to fire Kavanaugh.
THIS WEDNESDAY! Join us as we show out for our students and survivors! These are opportunities for students to show up + put pressure on Cabrera and the administration to address student concerns regarding the Kavanaugh hiring + Title IX resources on campus. ‼️#cancelkavanaugh pic.twitter.com/ZQlZboAiei

— Mason For Survivors GMU (@Mason4Survivors) March 29, 2019
In a lengthy statement by George Mason University President Angel Cabrera, he states he seeks to clear the air on why the current Supreme Court justice was hired.
"These two courses are part of the law school's ongoing efforts to provide opportunities for students to learn from some of the most influential legal experts in the nation. The faculty (in this case the law school's) approves these types of appointments based on their assessment of the qualifications of the individuals and the value they can bring to students," he said.
"Justice Kavanaugh's appointment was approved by the law school faculty in January. The class was announced to law school students soon thereafter and an information session was held in early February. … At this time, the class, which is elective, is oversubscribed."
"I respect the views of people who disagreed with Justice Kavanaugh's Senate confirmation due to questions raised about his sexual conduct in high school. But he was confirmed and is now a sitting Justice," Cabrera added. "The law school has determined that the involvement of a U.S. Supreme Court Justice contributes to making our law program uniquely valuable for our students. And I accept their judgment."
Cabrera noted the university is combating sexual assault on campus.
"This decision, controversial as it may be, in no way affects the university's ongoing efforts to eradicate sexual violence from our campuses," he said.
A spokesman for George Mason University told The College Fix that Cabrera's written statement is the official university stance on the matter.
MORE: Bias report filed against professor for defending Brett Kavanaugh
IMAGE: YouTube screenshot
Like The College Fix on Facebook / Follow us on Twitter