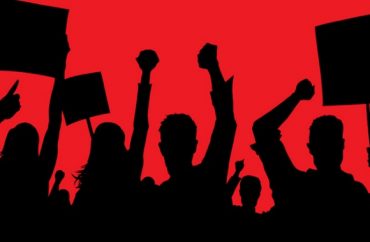 Students at the University of Wisconsin-Oshkosh have lodged several demands with administrators due to a Snapchat image, which they described as racist and homophobic.
Among their demands is a call for campus leaders to hire "Hmong American, (dis)abled, and queer faculty of color."
The mid-March Snapchat that rocked the campus and prompted a "Call for Action" forum showed two white male candidates for student government, Jacob Banfield and Ian McDonald, with a caption beneath that read, "UWO Vote for these guys today unless you want a lesbian or Hmong to win," the Advance-Titan student newspaper reported. The caption was added to the image by another student with no connection to the candidates.
The caption, which referred to Banfield's and McDonald's opponents for Oshkosh Student Association president and vice president, quickly garnered negative attention across social media.
In the wake of student outrage, Sylvia Carey Butler, associate vice chancellor of the division of Academic Support of Inclusive Excellence at UW-Oshkosh, sent out a statement to the campus community
"Yesterday, we were reminded that despite efforts to create an inclusive environment, racism and homophobia exists on our campus," read Butler's email, obtained by The College Fix. "The comments made on Facebook regarding our upcoming Oshkosh Student Association (OSA) elections underscores why each one of us has a responsibility to call out such divisive language when we hear and see it. UW Oshkosh's core values do not align with hateful acts or speech."
The mid-March "Call for Action" forum, which lasted nearly two hours and was live-streamed to Facebook, was led by students Alina Xiong, Pa Houa Xiong, Alicia Obermeier, and Hannah Johnson.
During the event, a number of students spoke about racist or homophobic experiences they endured while attending the university. Some called on the university to prevent future incidents. The student organizers of the forum also presented by powerpoint a list of demands to UW-Oshkosh administrators.
The demands included the following:
"Hold the individual responsible"

"Increase transparency around bias incidents"

"Addition of faculty, specifically Hmong American, (dis)abled, and queer faculty of color"

"Increase diversity of staff and leadership"

"Diversify the Chancellor's Cabinet and higher level administration to include multiple racial and ethnic backgrounds and LGBTQ+ representation"

"Increase inclusion through mandatory education (SAFE, microaggression, bias reduction, racial diversity) for students, staff, and faculty"
Following the event, Chancellor Andrew Leavitt sent an email statement to the university community, thanking the participants. He also noted that new initiatives were forthcoming to address student demands.
"The Call for Action forum drew hundreds of students, faculty and staff who shared their stories of discrimination experienced on the Oshkosh Campus," Leavitt wrote. "These stories were heartbreaking and highlight the need for members of our community, particularly the majority community, to examine their conscious and unconscious biases."
"I want you to know we were there to listen and learn. We heard your voices."
"As the forum was named Call for Action, the organizers and members of the communities present offered thoughtful suggestions on how we, as a university, can better address these long-term issues and inequities. The organizers will forward these suggestions to me. Be assured the leadership of this institution takes these matters very seriously and works hard to ensure all students, especially students from marginalized backgrounds, have access to higher education free from attacks based upon their personal identities. Stay tuned for more details on initiatives that will help address these issues," Leavitt wrote in his statement, obtained by The College Fix.
The UW-Oshkosh Women's Advocacy Council, which live-streamed the Call for Action Forum to their Facebook page, did not respond to an inquiry from The College Fix regarding the necessity and practicality of the demands.
MORE: Students demand controversial prof be replaced by 'queer person of color'
IMAGE: University of Wisconsin Oshkosh
Like The College Fix on Facebook / Follow us on Twitter