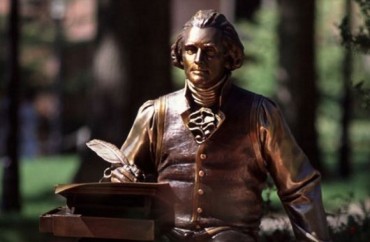 Some students at the University of Missouri have called on administrators to remove a statue of founding father Thomas Jefferson, suggesting in a petition and during a recent protest that the campus sculpture is offensive, oppressive, and celebrates a "racist rapist."
"Thomas Jefferson's statue sends a clear nonverbal message that his values and beliefs are supported by the University of Missouri. Jefferson's statue perpetuates a sexist-racist atmosphere that continues to reside on campus," states the Change.org petition. "…Removing Jefferson's statue alone will not eliminate the racial problems we face in America today, but it will help cure the emotional and psychological strain of history."
The petition was launched two months ago by student Maxwell Little, who told the Missourian he and his peers were inspired in part by the success of the removal of the Jefferson Davis statue from the University of Texas.
To drum up support for their effort, the students last week held a protest of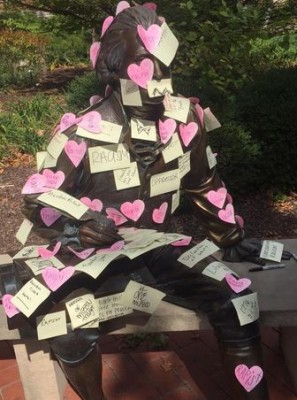 sorts under the hashtag #postyourstateofmind that targeted the statue, and "throughout the day, students covered the Jefferson statue … with sticky notes displaying messages such as, 'racist,' 'rapist,' 'slave owner' and 'misogynist,'" the Missourian reports.
(At left, Twitter screenshot of protest)
The petition lists a parade of grievances against Jefferson, including that he "urged freedom for all and TALKED about the abolition of slavery, but never practiced democracy a day in his life," that he "believed that both black and white individuals, equally free, could not live under the same government," and that he "raped 16 year old Sally Hemings, a young innocent house slave."
As of Sunday night, the petition had 70 signatures, but not all students support the statue's removal. "Multiple people tried to remove the sticky notes from the statue," the Missourian noted.
And in a statement to The College Fix, the president of Mizzou's Young Americans for Liberty chapter, Ian Paris, said he and his group feel the call to remove the statue represents "misplaced anger."
"To begin, we find it fallacious to require that all historical figures to be judged by contemporary standards," Paris, a political science major, said in an email to The Fix. "By this we mean that the fact that Thomas Jefferson owned slaves does not discredit him as an advocate for liberty in early America."
RELATED: Southern author: Banishing Confederate relics 'a danger to the preservation and study of history'
Paris also noted Jefferson's original draft of the Declaration of Independence equated slavery to a "cruel war against human nature."
"While this may not excuse him from his actions, we feel it is important to fully understand the depth of Jefferson's character before students demand we rewrite history in a style that is less upsetting to some," Paris said.
Paris added the statue simply represents an "attempt to remember the history of our nation in its entirety, rather than at the discretion of the most easily offended."
"Any attempt to change that would be a disservice, not only to the memory of one of the greatest men in the history of our nation, but to the University of Missouri as well," he said.
The statue has been on campus since 2001, commissioned and paid for by the MU Jefferson Club, the Maneater campus newspaper reports.
"He was a strong believer in democracy, and he had a wonderful mind," then-Chancellor Richard Wallace said of Jefferson during the sculpture's unveiling. "It holds up scholarship and freedom, the things that are critically important to our institution."
The Jefferson Club is a group of elite donors and alumni to the University of Missouri, according to the group's website, which notes "as the first public university west of the Mississippi River, MU identifies strongly with President Thomas Jefferson, founder of the nation's first public university. Thus, the Jefferson Club is named for President Jefferson."
Like The College Fix on Facebook / Follow us on Twitter
Main image: University of Missouri website screenshot