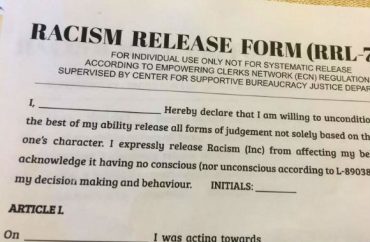 Satirical group also offers 'Adult Special Achievement' stickers
Students at Maryland's Goucher College can save administrators a step if they want to report racism: They can report themselves.
The "Racism Release Form" puts a friendly face on reducing racism, its advocates say. The forms are a big hit at Goucher, where students Sept. 15 were also handing out Apology Declarations, Forgivers Licenses, Joy Permits and Refurbished Report Cards.
The Center for Supportive Bureaucracy (CSB), the nine-year-old satirical group behind this and other lighthearted mock legal documents, told The College Fix it is "troubled" by bias incident response teams at campuses including Goucher's.
"There are always a few kids who insist that what I am doing 'isn't real' so they get all hot and bothered," Goucher student Lily Sage, an "empowered clerk" (registered form distributor), told The Fix in a Facebook message Saturday.
"At which point I usually offer them a Learner's Permit and ask them if they are willing to open themselves to all forms (pun intended) of reality as fellow humans."
MORE: Bias teams show just how far gone universities really are
Sage is one of hundreds of volunteer "clerks" distributing forms for CSB around the world. Though they can register online through CSB, clerks aren't required to, since all CSB documents are available for free online.
According to its website, the CSB "believes that one of the ways to ease some of human suffering is through paperwork." Because much paperwork makes people feel "disempowered" – such as bad report cards and rejection letters – the group seeks to heal them of "past traumas and low self-esteem" by giving them a "formal looking document with a parcel ID number."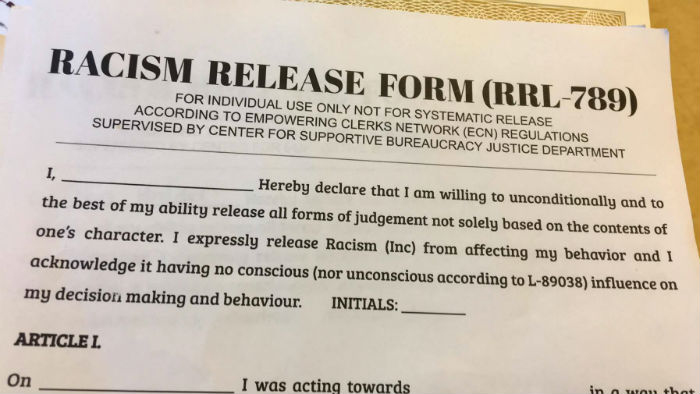 People believe such documents have "intrinsic truth," according to the website.
The Center for Supportive Bureaucracy is "troubled" by "humor police," CSB founder Ori Alon told The Fix.
MORE: New diversity officer wants 'zero tolerance' for bias incidents
The Israeli-American comic-book writer and children's book author questions whether campus administrators set on eliminating racism have their hearts in the right place. Contrary to the objectives of other campus anti-racism programs, like those implemented at Goucher, Alon said his organization isn't interested in shaming.
"As an organization that is dedicated to defending freedom on American soil and abroad, the CSB is troubled by some of the themes of" bias response teams, Alon said.
"[W]e do not wish to live under any form of humor police as such thing might lead to up to 34.2% decrease in the quality of jokes," he said facetiously, "which respectively might increase crime rates and cause various public health issues."
Goucher seeks to root out "microaggressions" against "marginalized groups" through its official process for reporting bias incidents, according to the Bias Education and Response Team website.
Goucher's Office of Public Safety can prescribe "disciplinary hearings and action where warranted" as a result of student reports.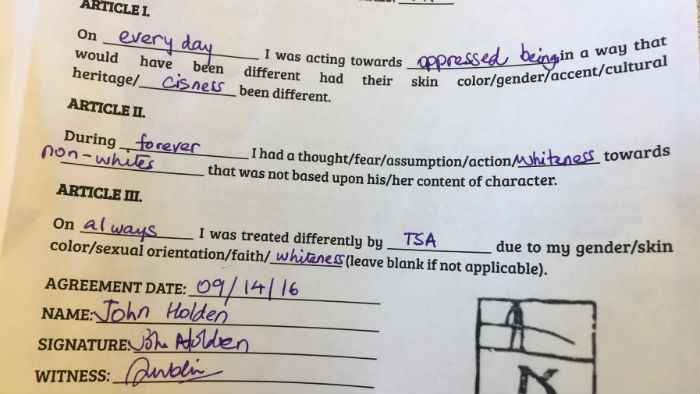 "The Racism Release Form was extremely hard to create in a way that is both respectful and funny, and I believe it's a non offensive tool for individual self reflection," Alon said Tuesday.
MORE: Professor takes on his university's bias response team
While he's not sure that his lighthearted philosophy could replace existing campus anti-racism programs, Alon said he assumes that "humans at their core are not interested in acting in violent or racist ways," even though "we all are racists to some degree."
According to Sage, the reaction from Goucher students to the forms is "mostly confused and then overwhelmingly positive."
"Everybody loves them" – except for her, Goucher sophomore Surbhi told The Fix. (She does not have a surname.)
Some people who encounter the forms where they are distributed "fall in love with a [particular] document and want to distribute it to a certain audience," Alon said, citing a black musician he met in Pittsburgh who "took some fifty Racism Release Forms and said he'll print more afterwards."
MORE: Oregon professors scrutinize bias response team, want to change it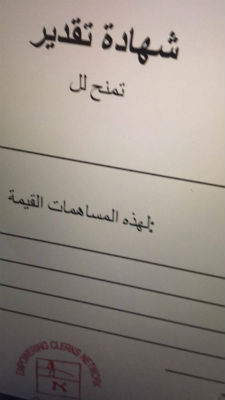 Alon said was unaware of anyone handing out CSB forms on other campuses, but Sage is soliciting feedback from people of color and hopes to expand her operations to neighboring Towson University.
She is revising the Racism Release Form based on "feedback from students of color." (The forms are licensed under Creative Commons, meaning they can be modified and shared noncommercially.)
CSB can't precisely track how many documents are printed, but based on page views, Alon believes registered volunteers have so far distributed 20,000 forms and about twice as many Adult Special Achievement stickers. The center wants to distribute one million more in the next three years.
"[R]elease from systematic and global racism is a work in progress but the RRF puts that into the hands of individuals as committed activists towards a greater world filled with less racism," Sage said.
MORE: 'Make America Great Again' investigated as 'racial attack' by bias team
Like The College Fix on Facebook / Follow us on Twitter
IMAGES: Surbhi