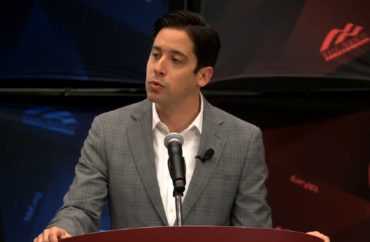 Accused the Daily Wire commentator of spreading 'hate' and 'misinformation'
Washburn University President Jerry Farley wants the student body to know that while he supports the First Amendment rights of a conservative group to host a speaker, he is not happy about it.
The president of the public Kansas university wrote an email to the student body on Tuesday night ahead of a speech by Daily Wire commentator Michael Knowles today.
Knowles will speak about gender identity and gender dysphoria issues at the invitation of the Washburn College Republicans.
Young America's Foundation is sponsoring the event and the speech title is "Ban Transgenderism," according to an email to The College Fix from YAF spokesperson Kara Zupkus.
"A Washburn student organization has invited a speaker to campus who has a history of inciting fear and distrust," Farley wrote. "While I am strongly in the support of first amendment rights, I am disappointed when those rights are used to make others feel unwelcome and even unsafe in our community."
President Farley also stated in his email that the university "does not condone the hate and misinformation spread by the speaker and his supporters."
The university declined to answer questions from The Fix.
"This was an internal message and we are not going to comment further on it," public relations director Patrick Early told The Fix via email on Thursday.
The Fix asked for examples of "fear and distrust" and "hate and misinformation" spread by Knowles or his supporters and if Farley had ever sent out an email before about a speaker or event.
YAF said that the intent of the email is to "chill conservative speech."
"It's obvious that Jerry Farley's intent was to chill conservative speech on campus by condemning it in a school-wide email," Zupkus, the spokesperson, wrote. "Every conservative student has now been 'marginalized' by Farley's disgusting email."
Much to Farley's dismay, [the] event will go on as planned––and conservative students will not bend a knee to Washburn's woke agenda," Kupkus stated on YAF's website.
MORE: Farley said he would punish frat members for private text messages
IMAGE: YAF/YouTube
Like The College Fix on Facebook / Follow us on Twitter