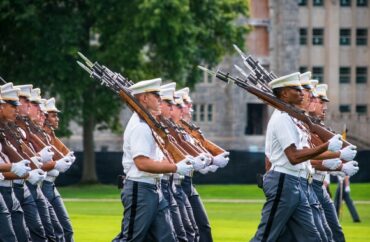 SFFA website declares commitment to ending affirmative action at military service academics
The student group that defeated affirmative action in the Supreme Court is turning their attention to American military academies exempted from the ban.
The group is currently collecting experiences of students who applied to the Air Force, Army and Navy military academies.
"WestPointNotFair.org is an undertaking by Students for Fair Admissions (SFFA), a membership group formed in 2014 to challenge the use of racial classifications and preferences in college admissions," the site states.
On its homepage, the group asks students to fill out an online form on their experiences applying to the United States Military Academy at West Point, the United States Naval Academy and United States Air Force Academy.
The group also states it is "committed to ending [affirmative action] at America's military service academies."
"Were you rejected from West Point?" the website asked."Or the Naval Academy or the Air Force Academy? It may be because you're the wrong race."
"West Point, as well as the Naval Academy and the Air Force Academy, uses an applicant's race and ethnicity as a factor in admissions," the group continued. "That's unfair and unconstitutional."
The Fix reached out to West Point, USNA and the Air Force Academy for comment on its admissions process in light of the SCOTUS ruling, but none responded.
The Supreme Court's affirmative action ruling in Students for Fair Admissions Inc. v. President and Fellows of Harvard College included an exemption for military academies.
"The United States as amicus curiae contends that race-based admissions programs further compelling interests at our Nation's military academies," Chief Justice John Roberts wrote in a footnote. "No military academy is a party to these cases, however, and none of the courts below addressed the propriety of race-based admissions systems in that context."
"This opinion also does not address the issue, in light of the potentially distinct interests that military academies may present," the footnote continued.
The court did not specify which "potentially distinct interests" it had considered.
The Biden administration argued in a friend-of-the-court brief for keeping affirmative action on the grounds that the military "depends on a well-qualified and diverse officer corps that is prepared to lead a diverse fighting force."
The DoD has not responded to email request regarding whether or not they informed Justice Roberts of the referenced interests.
Justice Sotomayor, in a dissenting opinion in the SFFA, argued "the majority does not dispute that some uses of race are constitutionally permissible.In a footnote, the Court exempts military academies from its ruling in light of 'the potentially distinct interests' they may present."
Sotoymayor also quoted the Biden administration's amicus brief in arguing "the Nation's military strength and readiness depend on a pipeline of officers who are both highly qualified and racially diverse—and who have been educated in diverse environments that prepare them to lead increasingly diverse forces."
MORE: Black conservatives praise ruling banning affirmative action
IMAGE: Alan Budman
Like The College Fix on Facebook / Follow us on Twitter