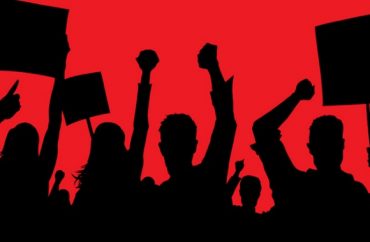 'Blocking access to buildings violates College policy'
Claremont McKenna College students who helped shut down a Blue Lives Matter speech on campus last week may face suspension or expulsion, a campus spokesperson told The College Fix.
Joann Young, director of media relations at the school, said via email that campus officials will review videos, photos and social media posts as part of a thorough investigation into the matter, during which Heather Mac Donald, a Manhattan Institute scholar and author of the 2016 book "The War on Cops," had her speech effectively shut down after a throng of roughly 250 rowdy protesters blockaded the doors.
Mac Donald ended up livestreaming her speech to a near-empty room as demonstrators outside banged on windows and shouted "F*ck the police" and "Black Lives Matter."
Young said those found responsible face a range of possible sanctions, "including but not limited to temporary or permanent separation from the college."
Hiram Chodosh, president of Claremont McKenna College, stated a day after the incident in a campuswide message that those responsible are "a large group of students from the Claremont Colleges, including a small number of CMC students and some individuals from external communities."
Claremont McKenna is part of the Claremont Colleges, a consortium of five elite private universities in Southern California, the others being: Pomona, Scripps, Harvey Mudd and Pitzer colleges.
It appears students shared a "Shut Down Anti-Black Fascist Heather Mac Donald" Facebook event that rallied many.
Chodosh, in his statement to the community, took some responsibility for the decision not to have campus police disperse the mob blocking the entrances.
"Based on the judgment of the Claremont Police Department, we jointly concluded that any forced interventions or arrests would have created unsafe conditions for students, faculty, staff, and guests. I take full responsibility for the decision to err on the side of these overriding safety considerations," he stated.
"Notwithstanding these efforts to stifle a speaker, Heather Mac Donald was able to give her presentation to a small audience at the Athenaeum. We also live-streamed her talk. Nearly 250 people viewed the presentation live, and her presentation that is posted on our CMC homepage has already been viewed over 1,400 times. In the end, the effort to silence her voice effectively amplified it to a much larger audience," he continued.
"Blocking access to buildings violates College policy. CMC students who are found to have violated policies will be held accountable. We will also give a full report to the other Claremont Colleges, who have responsibility for their own students."
He concluded by saying the school will develop strategies to make sure a mob of students cannot shut down a sanctioned campus event again.
MORE: 'War on Cops' author Heather Mac Donald shouted down at UCLA by hysterical Black Lives Matter protest
MORE: Heather Mac Donald drops truth bombs on liberals
Like The College Fix on Facebook / Follow us on Twitter