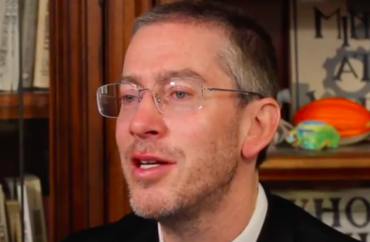 Economist makes 'the case against education' in new book
As more and more students attend higher education and as government spending on education remains high, a professor of economics is calling for a fundamental shift in how American society approaches college.
Bryan Caplan, an economics instructor at George Mason University, released a book last month titled "The Case against Education: Why the Education System Is a Waste of Time and Money."
Caplan, who has blogged prolifically at EconLog for over 15 years, wrote the book in order to make the case that "our education system is a big waste of time and money."
In a phone interview with The College Fix, Caplan said "the payoff of education that the student enjoys isn't a payoff for society."
Most of what students learn at college "isn't what you use for a job, you just get certifications and stickers that you can use," he said. "These certifications and stickers help the individual get a job one day, but they do nothing for society, because they aren't actually learning anything that will make them more effective at their jobs."
Caplan disputes the notion that higher education is necessary to put everyone on a "level playing field."
"The main thing is, at what cost is putting everyone on a level playing field?" he said. "In the real world the cost is overwhelming."
One problem with the educational system in this country, Caplan argues, is its insistence that most tracks in higher education must first go through an undergraduate program.
"There are countries where you go straight to medical school," he said, "so it shouldn't even be controversial that you could skip the intermediate degree. It's already happening."
The insistence on a generalized educational model prior to a more specialized one "is just cramming it down student's throats," he said.
"A much better system is one where you just start with apprenticeships and getting exposed to a wide variety of occupations," he argued, "and once you have had some exposure to different things then you can decide what you are most interested in. This would all be a lot more likely to happen without government funding."
In a recent discussion with Reason, Caplan explained the concept of "social desirability bias," a theory that stipulates that people tend to say the things that will make them seem "kind, respectful and respectable."
In the case of education, Caplan says, this is usually manifested by politicians always speaking out in favor of more resources and increased funding for education.
"A lot of the support for education," Caplan said, "is social desirability bias."
In his interview with The College Fix, Caplan said changing that knee-jerk impulse is one of the main points of his book.
"There is a group of people inside and outside of academia that are actually concerned about evidence and effectiveness," he said. "It's small but influential and we have to first win them over and then start to influence the youth."
"Win them over and like any social movement it can snowball. These young people will eventually have greater influence to change society."
"If this book can cause a reduction in 3 percent of funding," he added, "that's a great success. I admit the book is radical. But even if it makes a marginal change and saves the taxpayers $10 billion per year permanently, I'll be strutting like a peacock. Not many people can say they did that."
MORE: Today's college education is 'a toenail-fungus cream that doesn't work'
MORE: Is college really for everyone?
IMAGE: YouTube
Like The College Fix on Facebook / Follow us on Twitter