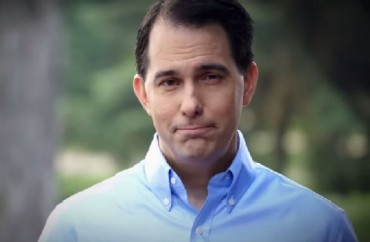 Accused of attacking student democracy
University of Wisconsin students would not only get lower tuition under Republican Gov. Scott Walker's latest budget, but they could also stop paying for groups or services they dislike or simply don't want to fund.
Along with a 5 percent tuition cut for in-state undergraduates starting in 2018-19 and a $42.5 million increase in performance-based spending for the UW System, the budget proposes making "allocable segregated fees" optional for students.
According to the Daily Cardinal, about $90 is allocable of the $607.56 in fees that UW-Madison students are required to pay each semester on top of tuition.
Student government leaders and chancellors decide how to spend such allocable funds, with typical recipients including student organizations, campus tutoring and bus passes, according to the Journal Sentinel. It said students couldn't opt out of fees that "cover long-term commitments or ongoing operating costs of buildings."
Oddly, the opt-out fee proposal is not mentioned in the governor's "higher education fact sheet" for the budget.
MORE: UW sociologist says Walker and Hitler share 'terrifying' similarities
Student leaders at UW campuses had mixed reactions to Walker's proposed intervention in their spending decisions.
"This is the best example of big government overreach, trying to take control of our allocable fees," Colin Barushok, chair of the student government committee in charge of allocating the fees at UW-Madison, told the Daily Cardinal.
"They don't have any business telling students they can opt-out of these fees, especially considering these fees are allocated by elected student officials."
"UW System students may be allowed to opt-out of allocable segregated fees due to a budget proposal from Gov Walker" https://t.co/utXygjcqZe

— Kevin (@kevinoconnor00) February 11, 2017
At UW-La Crosse, where allocable fees fund theater and multicultural programs among others, the proposal will create a "free rider problem" and require more user fees from students who participate in the funded activities, Christopher Rudolph told the Daily.
James VandenBergh, student body vice president at the River Falls campus, said it should be students' choice. "What it comes down to is that if you care about, or use the programs offered by allocable segregated fees, then pay, if not – don't," he told the Daily.
Student segregated fees are not uncommon on college campuses. At the University of Minnesota, international students must pay a $125 fee intended to "enhance academic services" for them, Inside Higher Ed reported in 2015.
Starting two years ago, Pennsylvania State University implemented a $500 fee for non-U.S. students that is used to "directly support international student programs and services."
Walker is already a pariah on many campuses in Wisconsin for his higher-education proposals. One professor said Walker shared "terrifying" similarities with Adolf Hitler, while a student newspaper published three times as many anti-Walker as pro-Walker opinion pieces over the course of several weeks in 2015, when his national profile was growing.
@studentactivism ICYMI, Governor Walker proposing opt-out of allocable (student controlled) fees in UW budget. Millions in student $ at risk

— Dylan Jambrek (@djambrek) February 7, 2017
MORE: UW campus paper fills pages with mostly anti-Scott Walker op-eds
In fiscal year 2016-17, higher education spending increased 3.4 percent overall among 49 states, with Illinois in the midst of a budget standoff, according to Illinois State University's annual Grapevine survey.
Wisconsin posted one of the smallest increases in spending at 0.2 percent. But over the past five years, it has increased spending by 33.1 percent, one of the largest increases among states.
The Board of Regents would distribute the proposed $42.5 million in performance-based funding to UW System institutions based on "enhancing work readiness, ensuring student success in the workforce, administrative efficiency" and other criteria, the Daily reported. Each institution would have to publish a "Performance Funding Report Card."
Walker also tasked the regents with developing policies to reward faculty and instructional staff who teach an above-average academic load, a metric that would be newly tracked under his proposal.
The Wisconsin Institute for Law & Liberty and American Council of Trustees and Alumni did not respond to College Fix requests for comment on Walker's higher-education proposal.
Although Republicans rule the Wisconsin Legislature, both Democratic and Republican lawmakers are skeptical of Walker's broader higher education proposal.
Wisconsin State Senate majority leader Scott Fitzgerald "has not seen significant support for the tuition cut within his caucus," spokeswoman Myranda Tanck told Fox 6 News in Milwaukee. Tanck said Fitzgerald hasn't ruled out supporting a tuition cut but believed more needed to be done to address rising student fees.
"He talks a really good talk. I mean, is it election time?" Democratic Sen. Lena Taylor told Fox 6, referring to Walker's expected run for a third term. "I want him to walk the walk. I want him to replace the deep cuts to the UW System."
MORE: Professor pens massive tirade against Scott Walker, tells governor: 'F– you'
Like The College Fix on Facebook / Follow us on Twitter
IMAGE: YouTube screenshot