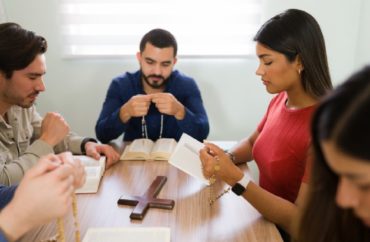 Weekly prayer and special events help bring students closer
Students at Catholic universities have created prayer groups to seek solace in the face of crises at home and abroad.
Sophia Charron, a student at Franciscan University of Steubenville, organized campus prayer events as a way to bring students together to pray for peace in Ukraine.
Of Ukrainian descent herself, she organized a Holy Hour for peace at Franciscan, and traveled overseas to assist refugees in the city of Kharkiv in early March soon after the war began. "Prayer has been indispensable in this conflict," she told The College Fix recently.
"In hymns and folk songs Ukrainians invoke the protection of their Holy Mother, whom they remember protected Constantinople in the 10th century," Charron told The Fix via email. "This long tradition of supplicating Mary is deeply rooted in Ukraine in its struggle against Russian colonialism and its a devotion that Ukraine's youth finds itself rediscovering today."
"Previously irreligious or skeptical Ukrainians I know have found themselves in Churches praying for their fathers and their country," she told The Fix. "The Church becomes the community's refuge when people find themselves plunged into pain and suffering, especially so unjustly as in this war."
Students at St. Mary's University in Texas began a weekly rosary group for Ukraine several months ago, according to the campus paper The Rattler.
This reliance on prayer and devotion to the Virgin Mary has traditionally been shared by the people of Ukraine, and is being revived in response to the conflict. The rosary is a favored form of prayer for Catholics. It consists of the Hail Mary, the Our Father and the Glory Be along with a few other prayers.
MORE: Catholic organization pays off student debt for those entering religious life
"I knew that we needed to have a responsibility as a faith community to this crisis, so I began emailing campus ministry to pitch my idea of a weekly Rosary to pray for Ukraine," Francisco Garcia told the Rattler.
Garcia told the paper that the group prays especially for "the lives already lost in the conflict and for those suffering and that Russia will realize the error of their ways and end their invasion."
Students have responded positively to the rosary group. "It is also important that we are showing that our response to this conflict is one of love and prayer, as not everyone can give monetary support, but we all can still pray together for peace."
"Ukraine is not the only place in the world where suffering occurs." Garcia told the campus paper. The group will continue to meet even after the end of hostilities.
The College Fix contacted the university's campus ministry twice in the past three weeks and asked how students have participated in the group but no response has been received.
MORE: Boston mayor pressures Catholic college to create LGBT center
IMAGE: Antonio Diaz/Shutterstock.com
Like The College Fix on Facebook / Follow us on Twitter